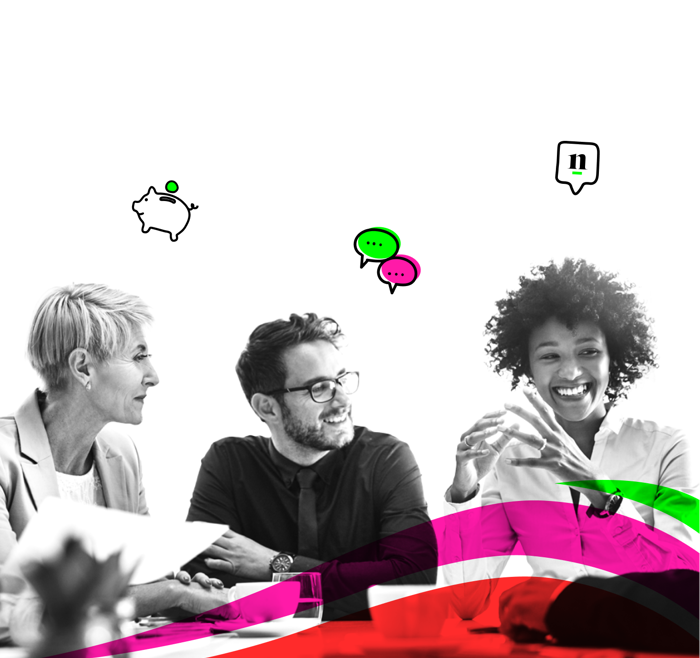 We're looking for an Associate Consultant to help us improve the financial literacy, and wellbeing, of the world's population – all 8bn of us!
By combining data and behavioural psychology, our technology empowers users with personalised financial knowledge and skills.
We're a fast paced, and even faster growing, SaaS FinTech providing financial education to employees, customers and communities across +100 countries.
This is a unique opportunity to make the world a better place, develop your skills, interests and experiences and have a lot of fun along the way!
Role overview
An Associate Consultant is responsible for managing the tasks required to support the ongoing service to our existing client base. 
You will work closely with the Professional Services team across a range of disciplines, including: sending out tailored communications to our users; analysis of user data to provide our clients with valuable insights; supporting change projects for our existing client base; working with user data alongside our clients and third-party providers to ensure the accuracy and integrity of the information loaded to the nudge platform.
This is a great role for someone early in their career who aspires to become a best-in-class Professional Services consultant in the technology and wellbeing space.
This will be a varied role and will involve but is not exclusive to:
Working closely with our clients to upload the prerequisite inbound data in an accurate manner to the nudge platform.
Gathering and documenting client requirements using a combination of nudge specifications and your own initiative.
Working with our delivery consultants to support the project management tasks completed when running implementation projects for clients. This might involve the creation and maintenance of a project plan, as well as actively tracking open actions, risks and issues.
Working with our delivery consultants to configure the nudge technology to meet the specifications defined by each client. 
Working with our service consultants to generate the correct outputs for our nudge users, i.e. sending "nudges" via email, SMS and Whatsapp to the appropriate populations of people.
Helping to manage our service desk by supporting in the response to user queries.
Working with our Client Success Managers to support them with the technical requirements when implementing change projects for our clients.
Data Analysis to identify user trends and insights for our clients and internal teams.
Skills and experience
We're a close-knit family so a willing, friendly and collaborative personality is really important to us. We're looking for a graduate or someone in the early stages of their career who is passionate about learning and developing in a new role. nudge is growing at speed so you'll embrace fast-moving and constantly evolving environments. If some or all of the qualities below resonate with you then we would love to hear from you.
You are a creative problem solver and embrace the opportunity to find solutions when presented with a challenge.
You have the capability to proactively plan your workload, even when you have multiple and seemingly conflicting priorities.
You thrive when working collaboratively with other team members as well as being happy completing tasks autonomously; whilst you will be supported every step of the way, you won't require micro-management.
You have exceptional attention to detail, with an enthusiasm for accuracy.
You have excellent oral and written communication skills, with a confidence to build relationships.
You're passionate about technology and understand the positive impact it can have for our clients and end users.
Whilst not essential, it would be great if you had:
Relevant experience working in a similar role or industry.
Experience with Excel and working with data.
Experience working with clients or supporting end-users.
Experience of managing projects or in implementation consulting.
Experience with Excel.
What's in it for you?
At nudge we put people first.  Our values are "friends through thick and thin", "embracing differences, supporting individuals", "leading and sharing" and "always learning".
We have an open, friendly, and supportive work environment that we're proud of.  And we're growing fast which means great opportunities for you to gain broad and diverse experience alongside some of the brightest minds in the industry.
We offer a very competitive reward and benefits package, which includes:
Share options
A competitive salary
A personal learning and development allowance
25 days annual leave, plus your birthday off
A company pension scheme
Life Assurance and Critical illness cover
Private Medical Insurance cover
Financial education
Regular company socials and wellbeing activities
A flexible working environment
Unparalleled opportunity to develop your career rapidly through exposure to all company areas
We're committed to creating a culture which gives our employees a sense of belonging. This is also reflected in our values as we're learning and growing through embracing differences and supporting individuals.
If it sounds like you, we'd love to hear from you! Send us your CV and cover note via the form below.
Any questions, get in touch with us on careers@nudge-global.com