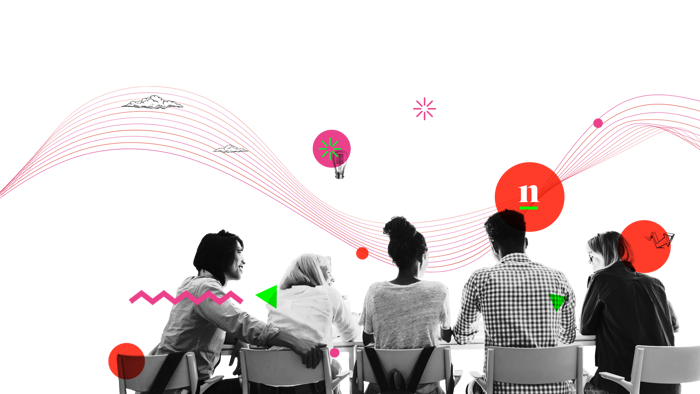 About us
nudge is the global financial education platform that demystifies money management for all.
Drawing on behavioral psychology and data, our platform offers personalized, engaging financial knowledge and skills to educate and delight.
In today's complex financial world, ignorance isn't bliss. For many, it's hardship, hassle, and lost opportunity.
But we believe change is possible. And we're going to lead it. Because when people are in control of their money, they're in control of their lives.
We have a stellar client base including PayPal, Facebook, Boeing, Virgin, IBM, British Gas, Samsung, Investec, Clifford Chance, Selfridges and BlackRock. Find out more about us here.
Opportunity
nudge is now live in 80 countries and continues to be a popular benefit for the largest organisations in the world. Following a recent financing by growth equity firm Kennet Partners (www.kennet.com), we're increasing the size of our team, with a Sales Development Representative to help fulfil our mission of creating brighter financial futures for everyone, everywhere. This is an exciting time to join nudge as we rapidly scale up from working across the UK, Ireland, US, Australia, and Spain to a truly global offering.
The Client Service Administrator is primarily responsible for the successful management of user data within the nudge application. This will include the the upload of the data files that are received from our clients into the nudge application, as well as ensuring that the data is cleansed and reconciled where necessary.
You will work closely with the Client Services team who will be regularly launching new clients and transitioning the initial data upload during project phase seamlessly into business-as-usual processing, for which you will be accountable.

Collaboration with the Client Success team will also be paramount to success within the role itself, as you'll be able to ensure that the wider team is aware of any issues that require the attention of clients. You will also be able to work closely with clients and the dedicated Client Success Manager to ensure continued smooth processing of data and swift resolution of any problems.
This is a great role for someone who is already (or aspires to become) a best-in-class Client Administration Specialist in the tech space and is passionate about the power of data.
Responsibilities
The position will be primarily data focused and will involve but is not exclusive to:
Completing the step-by-step process to successfully upload client data into the nudge application. This will vary in degrees of automation depending on the process in place for each client.
The generation and review of client analytics and user data, identifying trends and action required
Trouble shooting data issues, working with data providers and clients to address any data delays or discrepancies
Collaborating with our tech team to increase the efficiency and automation of data uploads and administration processes.
Successfully issuing nudge communications to end users based on particular data changes.
Working with our delivery consultants to configure the nudge technology to meet the data specifications defined by each client.
Working with our Client Success Managers to communicate the level of data integrity for each client and support them with the technical data requirements when implementing data change projects for our clients.
Skills and experience
We're looking for someone who is experienced in an administration role and is passionate about delivering a meticulous service to our valued clients.
nudge is growing at speed so you'll embrace a fast-moving and constantly evolving environment, where your level of responsibility will increase, as our client list expands within the UK and across the globe. 
If some or all of the qualities below resonate with you then we would love to hear from you.
You have exceptional attention to detail, with an enthusiasm for accuracy in everything you do.
You're passionate about technology and understand the positive impact it can have for our clients and end users. You'll take great pride in the fact that the quality of the data inputted to the system is a key enabler for nudge providing value to our clients and users.
You're extremely organised and methodical in what you do with the capability to proactively plan your workload, even when you have multiple and seemingly conflicting priorities.
You are a creative problem solver and embrace the opportunity to find solutions when presented with a challenge.
You're happy completing tasks autonomously; whilst you will be supported every step of the way, you won't require micro-management.
You have excellent oral and written communication skills, with a confidence to build relationships both internally and externally.
It would be great if you had:
Relevant experience working in a similar role or industry.
Experience with Excel and working with data.
Experience working with SFTP and PGP Encryption methods.
Experience working with clients or supporting end-users.
What we offer
At nudge we put people first.  Our values are "friends through thick and thin", "embracing differences, supporting individuals", "leading and sharing" and "always learning".
We have an open, friendly and supportive work environment that we hope you'll be proud of.  And we're growing fast which means great opportunities for you and your people to gain broad and diverse experience alongside some of the brightest minds in the industry.
We offer a very competitive reward and benefits package, which includes:
Share options
A competitive salary
A personal learning and development allowance
25 days annual leave, plus your birthday off
A company pension scheme
Life Assurance and Critical illness cover
Private Medical Insurance cover and a Healthcare cash plan
Regular company socials and wellbeing activities; craft beer, kombucha and iced tea on-site
A flexible working environment
Unparalleled opportunity to develop your career rapidly through exposure to all company areas
We're committed to creating a culture which gives our employees a sense of belonging. This is also reflected in our values as we're learning and growing through embracing differences and supporting individuals.
If it sounds like you, we'd love to hear from you! Send us your CV and cover note via the form below. 
Any questions, get in touch with us on careers@nudge-global.com