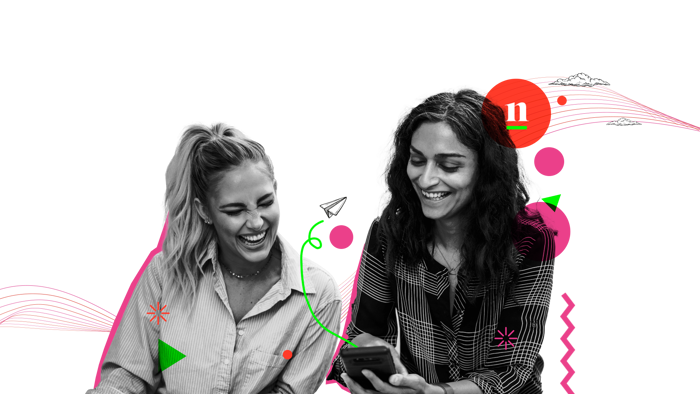 About us
nudge is the global financial education platform that demystifies money management for all.
Drawing on behavioral psychology and data, our platform offers personalized, engaging financial knowledge and skills to educate and delight.
In today's complex financial world, ignorance isn't bliss. For many, it's hardship, hassle, and lost opportunity.
But we believe change is possible. And we're going to lead it. Because when people are in control of their money, they're in control of their lives.
We have a stellar client base including PayPal, Facebook, Boeing, Virgin, IBM, British Gas, Samsung, Investec, Clifford Chance, Selfridges and BlackRock. 
Find out more about us here.
Opportunity
nudge is now live in 80 countries and continues to be a popular benefit for the largest organisations in the world. Following a recent financing by growth equity firm Kennet Partners (www.kennet.com), we're increasing the size of our team, with a Product Marketing Manager to help fulfil our mission of creating brighter financial futures for everyone, everywhere. This is an exciting time to join nudge as we rapidly scale up from working across the UK, Ireland, US, Australia, and Spain to a truly global offering.
We are looking for an ambitious, a-player marketing manager to take our client, product and user marketing efforts to the next level.

You will play a critical role in helping us achieve our ambitious growth targets by developing and executing our client marketing strategy.
Responsibilities
Working with our Client Success and Product teams, and supported by our growth and digital marketing managers, your role will be responsible for:
Plan, develop and execute the client marketing strategy, globally to support our marketing strategy
Deliver regular user communication campaigns to drive product engagement and adoption
Lead on all product marketing activities to enable the commercial team
Deliver programs to create and leverage an active community of referrals and advocates within the client base
A laser-like focus on the experience, success and resulting advocacy of existing clients
Educate customers about a SaaS product, including new product/feature launches
Create connections with clients to gain referrals, impact renewal rates and upsell opportunities and increase customer satisfaction and product usage
Drive and manage client engagement and communication programmes such as in-person and virtual client events and onboarding, nurture and renewal campaigns.
Create and manage specialised marketing content for client success to help at-risk clients
Manage consistent messaging and optimise communication touchpoints across the global customer base through online/offline channels
Develop the existing client lifecycle framework and work with Client Success team to implement
Manage annual client satisfaction surveys and identify further opportunities to gather feedback and help drive change.
Optimise and report out on the success of all client marketing activity
Measure/track revenue resulting from client marketing efforts on upsells and renewals
Skills and experience
We're a close-knit family so a willing, friendly and collaborative personality is really important to us. And we're exceptionally nimble and things move fast so we really value 'athletic' minds and a "let's give it a go" attitude.
For this role we're also looking for the following skills and experience:
Product marketing
HubSpot marketing platform
5 + years marketing experience in B2B SaaS
Global marketing
Developing and executing multi-channel marketing plans
Excellent communication and stakeholder management skills
Preferred
HR tech marketing experience
What we offer
At nudge we put people first.  Our values are "friends through thick and thin", "embracing differences, supporting individuals", "leading and sharing" and "always learning".
We have an open, friendly and supportive work environment that we hope you'll be proud of.  And we're growing fast which means great opportunities for you and your people to gain broad and diverse experience alongside some of the brightest minds in the industry.
Share options
A competitive salary
A personal learning and development allowance
25 days annual leave, plus your birthday off
A company pension scheme
Life Assurance and Critical illness cover
Private Medical Insurance cover and a Healthcare cash plan
Regular company socials and wellbeing activities
A flexible working environment
Unparalleled opportunity to develop your career rapidly through exposure to all company areas
We're committed to creating a culture which gives our employees a sense of belonging. This is also reflected in our values as we're learning and growing through embracing differences and supporting individuals.
If it sounds like you, we'd love to hear from you! Send us your CV and cover note via the form below.
Any questions, get in touch with us on careers@nudge-global.com