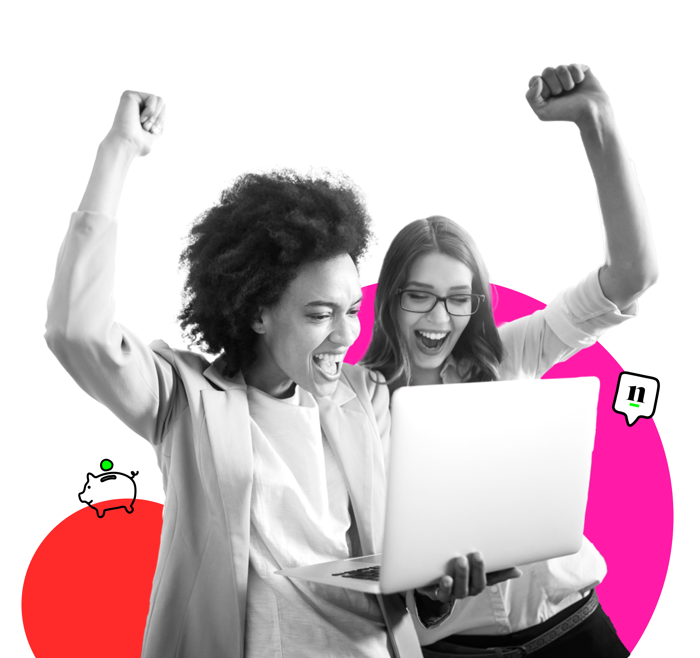 About us
In today's complex financial world, ignorance isn't bliss. For many, it's hardship, hassle, and lost opportunity.
But we believe change is possible. And we're going to lead it. Because when people are in control of their money, they're in control of their lives.
nudge is the global financial education platform that demystifies money management for all.
Drawing on behavioral psychology and data, our platform offers personalized, engaging financial knowledge and skills to educate and delight.
We have a stellar client base including PayPal, Facebook, Boeing, Virgin, IBM, British Gas, Samsung, Investec, Clifford Chance, Selfridges and BlackRock.
And nudge is now live in over 100 countries!  Find out more about us here.
Opportunity
In your role as Quality Assurance Specialist, you will be part of the Client Services team and work closely with our Technology, Product and Content team to ensure that new product features are delivered to an exceptional level of quality.
You'll be working in a dynamic and fast-paced global environment to ensure that any new features fulfil both the company and our global enterprise clients' complex business requirements.
This is an exciting new role that has been created to support the growth of nudge and ensure we can successfully deliver new projects. It will initially be on a fixed term basis for 6 months, with the potential to be made permanent depending on the success of the individual in the role.
We are looking for someone who is passionate about working with technology, pragmatic in their approach to solving complex problems and extremely organized and detail oriented. Specifically, you'll be able to identify issues and inconsistencies with the software that are perhaps not immediately obvious to other end users. The way you document and communicate any issues you identify will be clear, concise and thorough in order to facilitate accurate and speedy resolution to any feedback raised. 
Responsibilities
This will be a varied and dynamic role and will involve the following key responsibilities where you will:
Test: thoroughly reviewing and testing all of the new features that are shipped against specific test criteria that has been developed by the team.
Design: you will input to the creation and design of the test cases using your past experience and input on improvements following your time in the role.
Analyse: you will be able to understand specific use cases and design criteria in order to use your initiative when testing, for instance there may be issues you identify that don't specifically sit within one of the existing test cases.
Document: you will clearly record your findings in a way that enables other teams to understand your methodology and the issues you have identified.
Optimise: You may also be able to advise on how we can optimise existing documentation and processes.
Learn: You may develop a familiarity with the software and it's configuration (no coding skill required), which would enable you to expand your role into investigating why something isn't working as expected.
Skills and experience
We're a close-knit family so a willing, friendly and collaborative personality is really important to us. And we're exceptionally nimble and things move fast so we really value 'athletic' minds and a "let's give it a go" attitude.
For this role the ideal candidate should have:
2+ years' experience in a fast-paced project environment where your key focus has been on testing, quality and/or configuration.
Experience working within cross-functional teams with ambitious deadlines.
Experience testing features that have been designed to meet specific business and/or client requirements.
Strong written and verbal communication skills
Ability to handle multiple projects simultaneously with excellent prioritisation skills.
Ability to work in an agile environment, with a comprehensive understanding of how your individual role contributes to the overall success of the overall project and program.
Confidence and comfortable with new technology, eager to learn and master new tools.
Experience using Jira and Monday.com will be useful.
What we offer
At nudge we put people first.  Our values are "friends through thick and thin", "embracing differences, supporting individuals", "leading and sharing" and "always learning".
We have an open, friendly and supportive work environment that we hope you'll be proud of.  And we're growing fast which means great opportunities for you and your people to gain broad and diverse experience alongside some of the brightest minds in the industry.
A competitive salary
Financial education 
A personal learning and development allowance
25 days annual leave, plus your birthday off
A company pension scheme
Life Assurance and Critical illness cover
Private Medical Insurance cover
Regular company socials and wellbeing activities
A flexible working environment
Unparalleled opportunity to develop your career rapidly through exposure to all company areas
We're committed to creating a culture which gives our employees a sense of belonging. This is also reflected in our values as we're learning and growing through embracing differences and supporting individuals.
If it sounds like you, we'd love to hear from you! Send us your CV and cover note via the form below.
Any questions, get in touch with us on careers@nudge-global.com