Free financial education is a false economy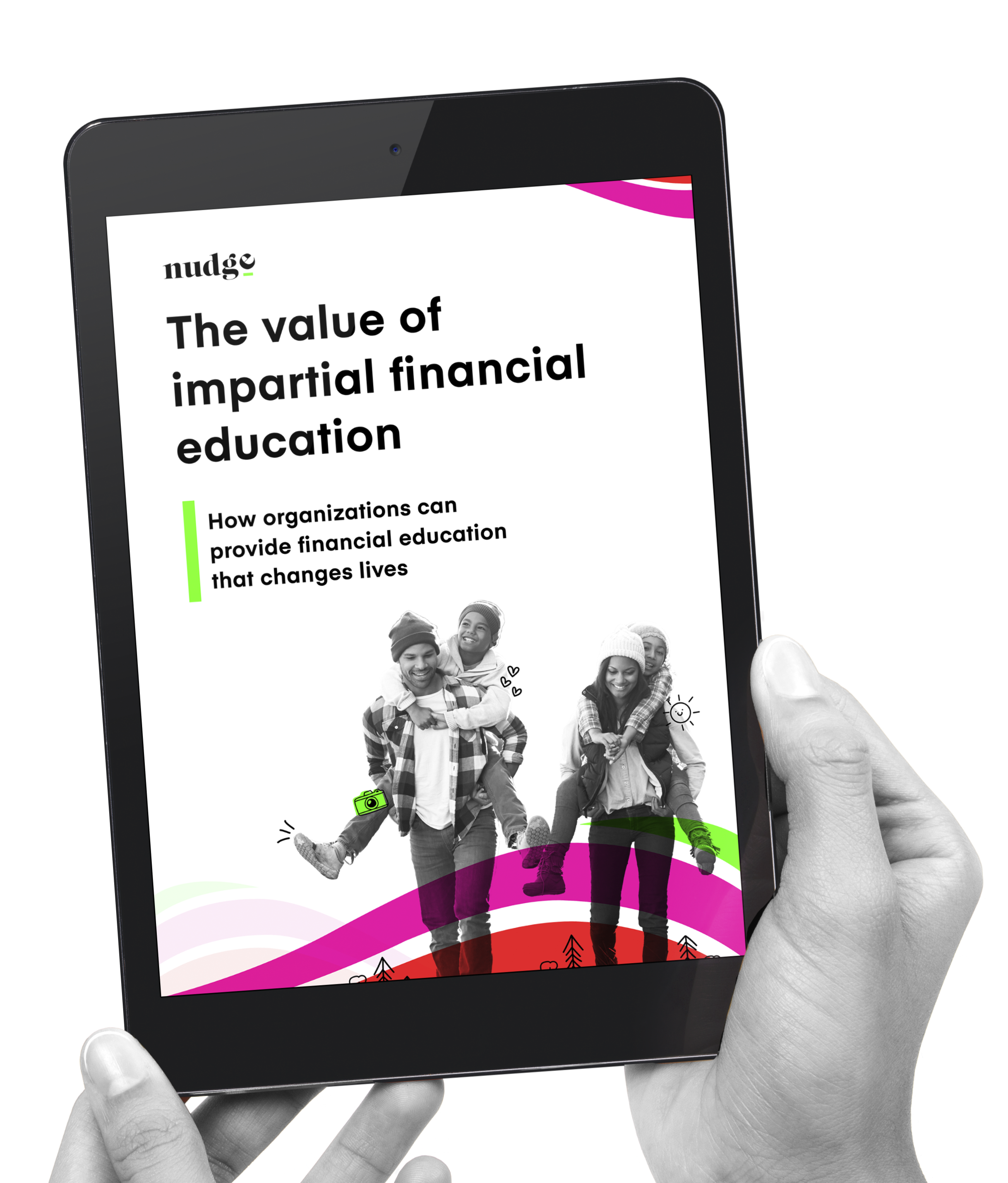 ---
Adult global financial literacy is considered very low by the European Commission. OECD survey revealed that 126k interviewees, across 26 countries scored 61% (on average) in financial comprehension. You might think, 61% - that's not too bad. Think again, a maximum score only represents a basic understanding of financial concepts.
The point is, something doesn't add up when it comes to free financial education. With a weak world economy - we can't afford to carry the weight of poor financial decisions. But who's going to do the heavy lifting?
Well, we believe there's a huge opportunity for employers to lighten the load.
It's widely accepted that best practice financial wellbeing programmes are underpinned by education. But with so many financial wellbeing solutions on the market, finding the best provider to deliver financial education gets complicated. Particularly when the industry is full of free add-ons to existing financial wellbeing products. Mortgages, savings, financial advice and EAPs are examples of such products. So, what should you consider when looking at financial education options?
Avoid 'vanilla' financial education
The mistake that many organisations make is using a bundled financial education service. Meaning financial education is provided 'for free' by a product provider. The majority of bundled financial education offers are based on freely available content from The Money Advice Service. Although useful, it's widely regarded as generic, and too generalised to truly help empower employees with the skills and knowledge to improve their financial wellbeing.

This vanilla approach, coupled with the fact that the provider is commercially motivated to encourage take-up of their products - means many employers are wary of the transparency of the advice. Employers like our clients.
Instead, our clients opt for independent education that is personalised to each individual employee. They are assured the content is unique (ie. not copied from other sources) and in adherence to financial education standards.

Why not opt for tangible outcomes?
Employers big and small are becoming more focused on the 'people' impact and business outcomes of financial education. And rightly so. Employers offering free financial education to their people are unable to prove notable wellbeing returns and, therefore, business performance will remain the same.
Why? Well, as you can imagine - education that's generalised isn't going to resonate with the individual. We all know that the world of finance can be complex so generic, impersonal information, without the tools to then put the learning into practice sadly only adds to the confusion. Quite simply, free financial education is a false economy – and in the world of financial wellbeing, that's a conflict of interest.
What outcomes can employers who seek independent, specialist financial education expect?
• Employee transformation
Imagine a workforce of people who are more confident with money and achieving their life goals. Our research proves people who are control of their money, are in control of their life - which makes them feel happier and more content.
• Employer brand and perception
Employees expect a secure salary but they don't expect their employer to go the extra mile to help them make the most of it. Companies who exceed employee expectations see significant improvements to employer brand perception and in sentiment analysis scores.
• Improved performance, productivity, and engagement
When people value their employer they don't leave, they're more engaged and productivity and performance skyrockets.
But you don't need to take our word for it, listen to the stories from our community who sing the value of independent, personalised, 100% transparent, product bias-free, financial education.
Why not help your people and positively impact your business today - get in touch.