7 ways to avoid getting lost in the financial wellbeing maze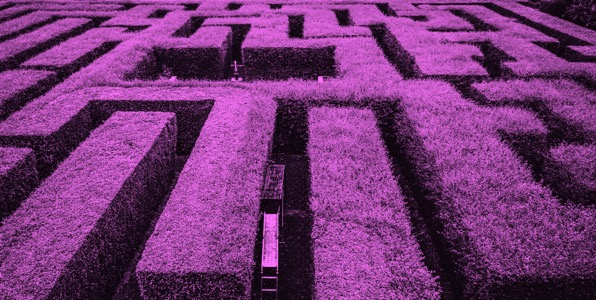 ---
Since 'Financial Wellbeing' became the new HR buzzword (about time too) loads of solutions have been repositioned as 'financial wellbeing benefits'. And as an HR professional, there's no shortage of pick and mix options for you to place in the shop window. We truly are spoilt for choice.
But, as we all know, sometimes choice can lead to confusion. It's easy to get lost in the maze of solutions if you enter believing the myth that financial wellbeing can be achieved by a collection of employee benefits that restrict individuals to a fixed, limited menu of transactions.
Really financial wellbeing is an outcome - it's about individuals' having the knowledge and skills to make the most of an income – high or low – and enjoy a comfortable and contented quality of life.
There's a whole world of personal finance that spans beyond the workplace which needs to be understood and maximised by your employees. You need to avoid getting lost in the maze of solutions, as it will literally be impossible to buy a benefit for every area of personal finance.
Instead, it's time to build a strategy that is clear, cohesive and inclusive of all your employees' needs.
Here are seven fundamental ways you can get started and avoid getting lost in the financial wellbeing maze:
Map out your financial wellbeing ecosystem
Map out your financial wellbeing ecosystem, so the different elements are connected, and it becomes a single, cohesive strategy. Define the purpose of this ecosystem – what does financial wellbeing mean for your business?
Make education the beating heart
Whether pushing information or empowering employees to pull it. Education brings every other element of your ecosystem to life by providing important context and understanding. It also starts to position financial wellbeing as long-term and strategic, rather than short-term and tactical.
Harness the power of data
Data enables the delivery of good quality information for your employees to make the most out of your benefits programme. Harnessing the data available to you enables prevention of financial stress, as well as needs-based intervention at an individual level.
Monitor macro changes
Monitor macro changes and ensure they inform the content you share, the tools you focus on and the employee benefits you promote. Macro changes can provide an important frame of context for otherwise sterile products.
Talk in a style that engages
It is difficult to create long-term behavioural change, but it's possible with regular, snackable content that makes it easy for your employees. Also, keep in mind that the financial decision maker may not always be your employee, so make it easy for them to share the communication, knowledge and tools with their family.
Use technology for scale
Technology enables crucial integration of financial content, tools, employee benefits and other resources - allowing your people to easily connect knowledge with action. This ensures scalability and sustainability in the long term and enables monitoring of outcomes and trends.
Ensure your strategy learns
Constantly monitor and learn from all the interactions your employees have with communications, content, tools and benefits, to enable improvements to your financial wellbeing strategy.
By optimising your financial wellbeing strategy you have the opportunity to reduce your employees' financial stress, improve mental wellbeing, reduce absenteeism, increase presenteeism, engagement and productivity.
No more getting lost. It's time to truly improve your people's financial wellbeing.
If you haven't yet already, make sure you download our latest whitepaper 'The great wellbeing myth' and sign up to our insights in order to create a market-leading financial wellbeing strategy.