How financial empowerment strengthens connection
3 min read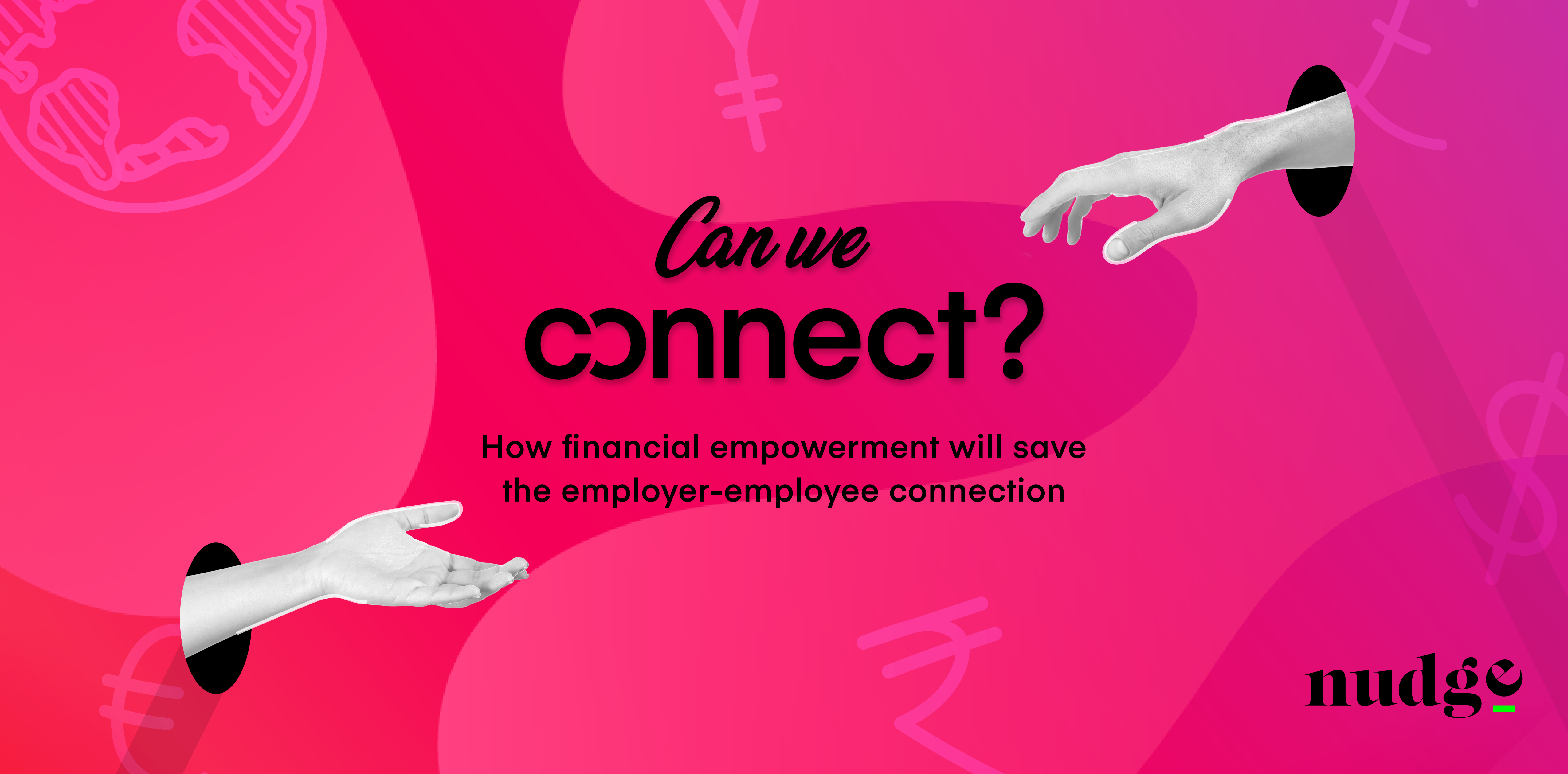 ---
Global conflict, inflation, and the rising cost of living have weakened many people's trust in financial institutions,  while also causing a disconnect between employers and employees. As a result, the world of work is at a tipping point. Our ground-breaking research surveyed 6,750 full-time employees across 14 countries* to dig deeper into their feelings around their financial wellbeing, and the connection this has to their workplace.  Here's what we found:
Financial anxiety is widespread and severe
Globally, people are extremely worried about their financial situation. And who can blame them? Inflation and stress on supply chains are driving costs through the roof, and wages aren't keeping pace. The global cost of living crisis is very real and isn't going away any time soon - 37% of earners around the world are struggling financially, living paycheck-to-paycheck. And it's not just that anxiety about money is high, it's that it's increasing - 70% of people globally feel anxious about their financial situation, that's a staggering 55% YoY increase in less than a year. 
Our research also highlighted how women are underserved with financial education, and less likely to feel hopeful about the future. Download the report to understand the disparity - and how your benefits strategy can better support your entire workforce. 
A short-circuit in the employer-employee connection
The research highlighted that many employees feel disconnected with their employer.  Specifically, over half of all workers believe their companies view employees as interchangeable and replaceable. This is a problem for businesses because these feelings of disconnection can contribute to dissatisfaction, less productivity, and more employee turnover. Of course, no one wants to lose their top performers as they're hard to replace and it's an expensive exercise.
Interestingly, we discovered that young people have the weakest connection with their employers. The report outlines how you can re-build connections with your rising talent through diverse benefits, specifically financial education.
People desire a connection with their employers
In fact, 77% of employees agree that they want to work at an organisation where they feel connected to the purpose and the people.
Globally, while nearly half of employees say they show up exclusively for the paycheck, only 1/3 say their relationship to an employer is entirely transactional. This suggests a gulf between the kind of relationship people want with employers and their actual relationships. In other words, people don't just work for the money, they desire a connection with their employers. However, many workers aren't experiencing it.
Eroding trust in financial institutions has created opportunity for employers
A combination of macroeconomic factors and global instability has resulted in workers being particularly worried about the future. These concerns strike to the core, as 34% of the people we surveyed said global instability has decreased their trust in financial institutions, such as banks.
People want, and expect, financial education from their workplace
Against this backdrop of inflation, distrust of institutions, poor financial education and increased financial anxiety, people need and want more support. Relatively few employers offer to help people upskill their financial knowledge with benefits like financial education. But the research suggests that there is a hunger for this kind of support - and an openness to receiving it. 
By helping employees improve their financial health, at a time when they need it most builds trust and understanding of their financial situation - 56% of people say financial benefits would make them more committed to their employer. The report outlines how young people trust their organization significantly more if they have these benefits in place. 
With Finpowerment, employers help their people take control of their money and achieve financial goals
Individuals can't control macroeconomic factors that cause financial and emotional stress. But with financial education and effective communications on employee benefits, employers can help their people to learn how to control the things that are within their power: economizing, growing money through investment, and increasing savings, so they can achieve those milestone life moments.
Globally, employees who receive financial education feel 24% more connected to their employers than those whose employers do not offer financial education benefits. Even more, employees that receive financial education benefits trust their employers 23% more than those whose employers do not offer financial education.
Can we connect?
nudge's market-leading global research aims to help organizations better support their employees financial wellbeing, building a lasting connection as they support them through key life moments. Read the report to understand how to financially empower your people.
DOWNLOAD REPORT
*Ensuring representation across age, gender, ethnicity and earnings. 25% of those surveyed earned over USD 50,000 in their local currency.