nudge conference: 5 key takeaways
6 min read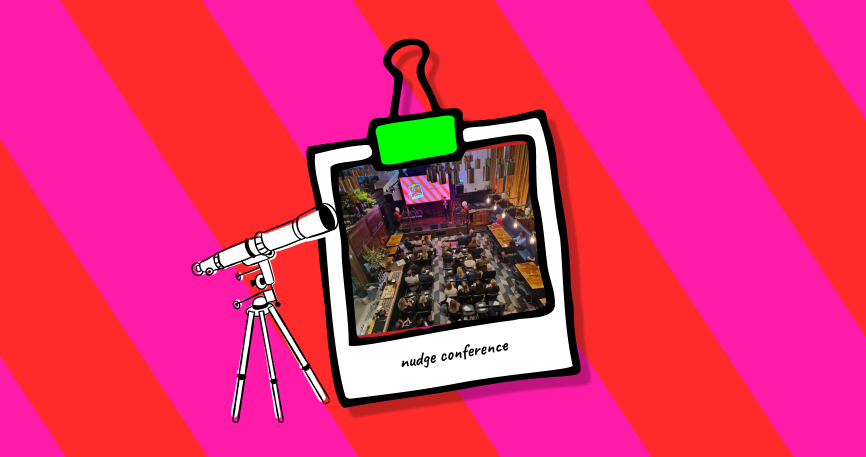 ---
On December 7, 2022, we brought together a community of forward-thinking HR, reward and benefits leaders to discuss how, together, we can make 2023 the year of the ultimate financial wellbeing program.   
We have captured five key takeaways from the conference and actionable next steps for you to think about for your 2023 financial wellbeing program below:     
1. What is your why?
Whether it is to help people through inflation, drive engagement with retirement plans or support specific communities of employees, employers must know what their measurable goals are for their financial wellbeing program and what success looks like.  This was one of the key points from nudge co-founder Tim Perkin's session on how to build your program.
Jasmine Birtles, keynote speaker and financial expert, also shared several statistics proving people trust and expect their employers to help them. For instance, a quarter of employees see their employer as their greatest source of guidance for long-term financial planning. The client panel also showcased how many organizations are moving to have measurable goals for their program.
Anton Seatter, Employer Solutions at JTC stated:
"There's a lot of focus now on ROI. It's important to have a good strong proof of concept."
 Next steps to think about:  
As an organization, what are your goals for your financial wellbeing program? They need to be measurable. 
For example, do you want to increase your people's engagement in your cost of living support packages? 
Or are there specific communities you want to support further, such as families or those struggling with debt?
Once you have set your goals and measures, you are able to prove ROI. Or it could be a case of agreeing with stakeholders that it's just about doing the right thing. 
2. Who is your community? 
Perkins explained that reach is an important factor to consider when building a financial wellbeing program. He highlighted the global capability of nudge to extend support to all client office locations and the importance of the family and friends of an employee:     
"Our financial wellbeing is impacted by the people around us – so our programs need to impact employees' loved ones and acknowledge who they are supporting - extending reach beyond the employee is essential."  
In her keynote, Birtles outlined that while many companies might not have resources to give pay rises, financial education that is shareable with family and friends can help employees, and those they care about, take control of their money.
Next steps to think about: 
Do you have an inclusive program for all your office locations?
Do you have a full view of how many dependents your people have that will be impacting their financial wellbeing?
You might not have the resources to extend all financial benefits - but education that is shareable with employee's family and friends will increase the wellbeing impact on your employees.
3. Help is needed now – are your people aware of the benefits you have on offer?
The cost of living crisis has never been more palpable. Jasmine discussed that bills are at the forefront of most minds no matter their income. Over four million people have missed bills in the last 6 months and 7.8 million say bills are a heavy burden. What's more, she mentioned that people are worried about paying for essentials, concerned about losing their job, or worried they will need a second job. 
In the client panel, Siemens Compensation & Benefits lead Amy Vokes, discussed their hardship fund for employees, as well as other existing benefits on offer to help people's financial wellbeing. Her top tip was to constantly remind employees, educate and drive action on the benefits on offer through nudge.
"You can check on how your people are doing through a financial health check-up. Look at your overall offering to ensure they are supporting all your employees' needs and drive engagement with your people."    
Considering the current economic climate, when asked for his top tip, the Head of Pensions & Benefits at Entain Tim Colvin said:
"It's very simple; just do something."
Next steps to think about: 
Do you know how your people are doing with their debt, savings, investments etc.? Time to run a financial health checkup. 
Considering this, look at your overall benefits offering, are you supporting all their needs?
Once you have done your review, package it up and educate your people on what you have on offer to help.
Are you using technology to make your communications personalized and efficient?     
4. Are you leveraging tech for impact and efficiency?
Perkins outlined efficiencies that technology like nudge can create to get teams out of the weeds so they can focus on the strategy and drive impact.
"Technology can not only deliver financial education – but also help you educate your people on benefits relevant to them – in a personalized, automated way.  This saves your team time on benefits communications. As well as giving you actionable data on your people's financial health and the impact of your program (such as our nudgenomics dashboard) to help you maximize ROI."
In the panel discussion, Colvin discussed how they used nudge to educate their people and drive action on their retirement program - this point was echoed by others on the client panel who shared other examples of benefits communication campaigns they have run. 
Vokes stated:   
"Make benefits education part of your full package. If you're rolling out a benefit, utilize nudge to roll it out."
Next steps to think about: 
Are you optimizing the use of technology? 
Review your providers and understand their capabilities to support outside of the day-to-day. 
For example, nudge can help you educate your people on benefits relevant to them – in a personalized, automated way.
This increases outcomes and frees you up to focus on driving impact.   
5. ESG, D&I and financial wellbeing are all interlinked – are you joining forces?
There was a focus throughout the conference on the need for inclusive financial education and how as a benefits community we have a unique opportunity to impact society for the better.
Birtles kicked off with shocking statistics that 10.7 million people rarely or never save and 51% could not last more than three months if they lost their jobs. She made it clear that with inclusive financial education, these societal issues could be improved. 
Several client panelists commented on how they have worked alongside ESG initiatives, employee resource groups and D&I leads to deliver their financial wellbeing program to as many demographics as possible.
Commenting that this is a great way of getting other stakeholders involved to drive a bigger impact on your financial wellbeing program. Bryony Owtram, Pensions & Benefits Manager at Phoenix Group, was particularly passionate about this:
"Get as many people as possible into the demo of nudge. The product sells itself once people realize how engaging it can be." 
In the breakout sessions 'Creating a diverse equitable and inclusive program' was the most attended table. The group discussed that financial wellbeing should be a lens for all activity, with a delegate stating:
"Regardless of department, we should be thinking about financial wellbeing when making decisions."
Next steps to think about:  
Have you engaged all your stakeholders in your financial wellbeing program to make it inclusive?
Can you find your financial wellbeing goals and measures together?
Are you utilizing employee resource groups to make people aware of the support on offer?
By joining forces, you can ensure the reach and ROI of your financial wellbeing program are bigger.
We hope you have found this useful, but that's not all, we have more great content from our keynote speakers to share with you so keep an eye out! If you'd like to find out how you can make 2023 the year of the ultimate financial wellbeing program - get in touch.