Chocolate bars, spaghetti jars and toy cars: The biggest missed opportunity in the financial wellbeing of children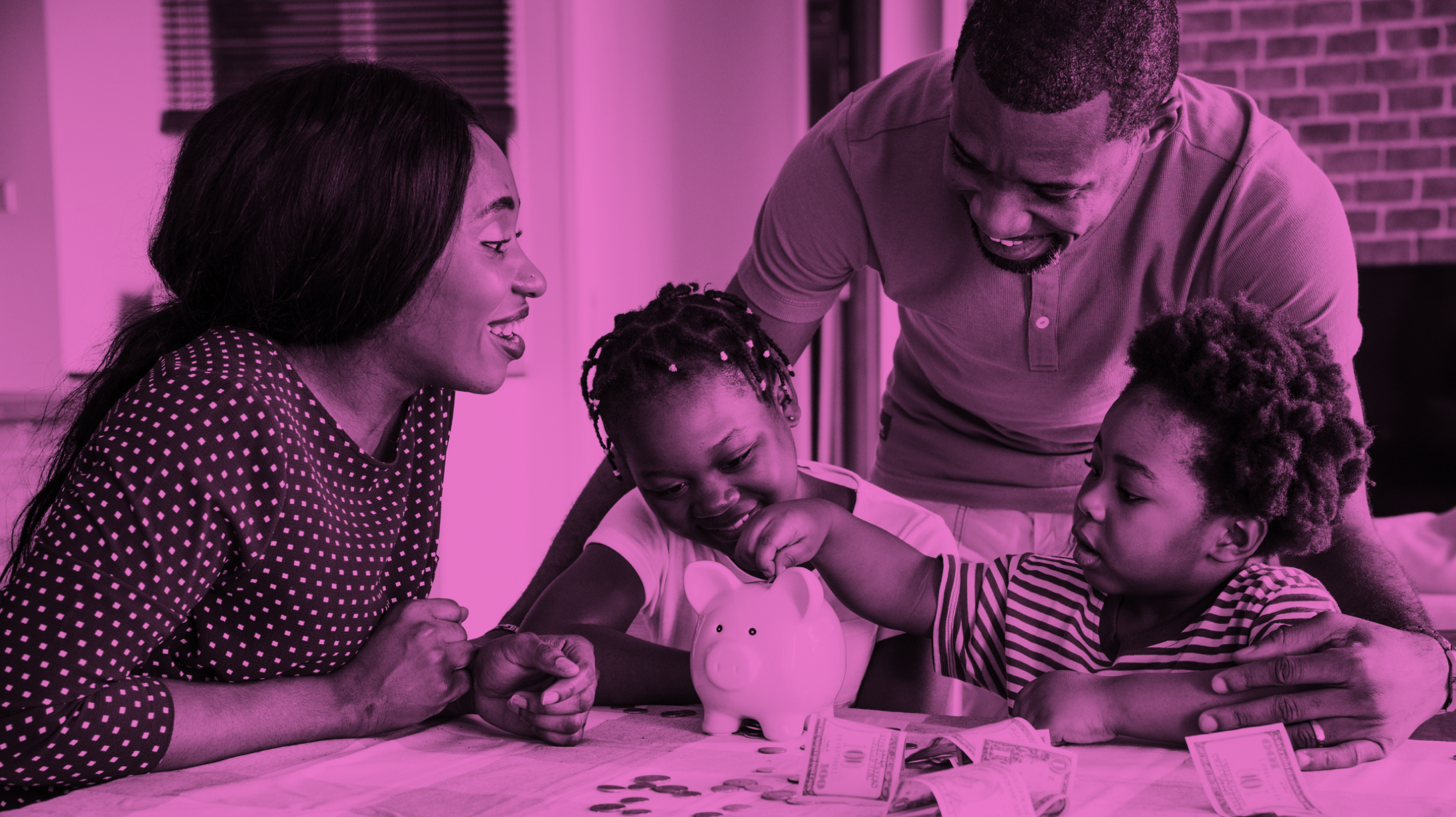 ---
The ages of 7 to 14 years are critical times in the development of a person's financial behaviour and during these years, children form saving and spending habits that can stay with them their entire lives.
In my last blog I talked about the role schools could play in delivering financial education but perhaps the best opportunities exist in the home – where real decisions are being made every day. However most parents don't talk to their kids about money – making this one of the biggest missed opportunities in financial wellbeing. 
That's why I'm incredibly proud to be working for a company that is trying to help…
As well as going into schools to deliver workshops for children, in 2019 we started working with employers and their parent / carer networks to deliver workshops for parents – helping them understand the why, when and how of delivering financial education at home.
Why is it important children receive financial education at home? 
When you consider that financial wellbeing is not being given enough time in the classroom and 56% of young people receive no financial education at all, the case for parents doing more at home couldn't be stronger.
When should children start their financial education journey?   
I like the idea that by the time a child is old enough to ask their parents for gifts, they are mature enough to start understanding how finances work.  Whilst a more scientific perspective may be that by age 3, children can grasp basic money concepts and by age 7, many of their money habits are already set.  And taking it one step further there's an approach that outlines yearly financial education milestones from age 3 through all the way through to age 18.  These milestones include practicing how to wait and how to count (ages 3 and 4) ; giving children their first allowance (age 6); 'immunising' them against advertising (age 11); and talking to them about credit reports and (student) loans (ages 17 and 18).
How to deliver financial education for children in the home? 
At nudge we break it down into 5 key areas:
Give them pounds: When it comes to day-to-day lessons, the best way to teach children the value of a pound is to give them actual pounds.

A monthly allowance to buy a weekly treat, even if it's just a chocolate bar, is a great introduction to proper allowance management.


Make the most of everyday situations: The monthly bill-paying chore is hardly fun. But when children are small and want to do everything mum and dad do, it's an ideal time to teach them about money.


Give them a place to save: From using a spaghetti jar that's taller than usual so they can see how money collected actually grows; to setting up their first savings account (and involving them in the set-up!) - saving is key.


Set goals: Goal setting is crucial in financial education, whether it be saving for a toy car or helping reduce the family utility bill by 25%.

It allows children to identify how much money they need, encourages them to stay focused and creates that sense of achievement.


Set examples: Children are always observing how parents manage money and will pick up their habits!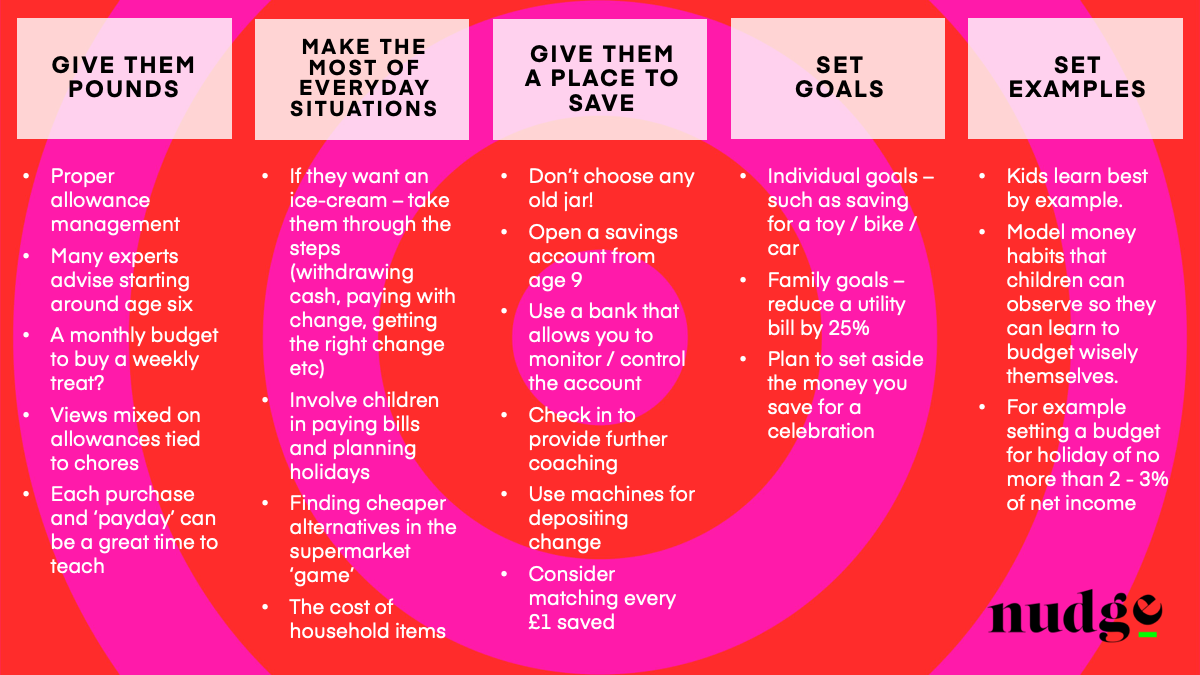 For more of a breakdown of these 5 key areas and how you can actively educate children on money, click here.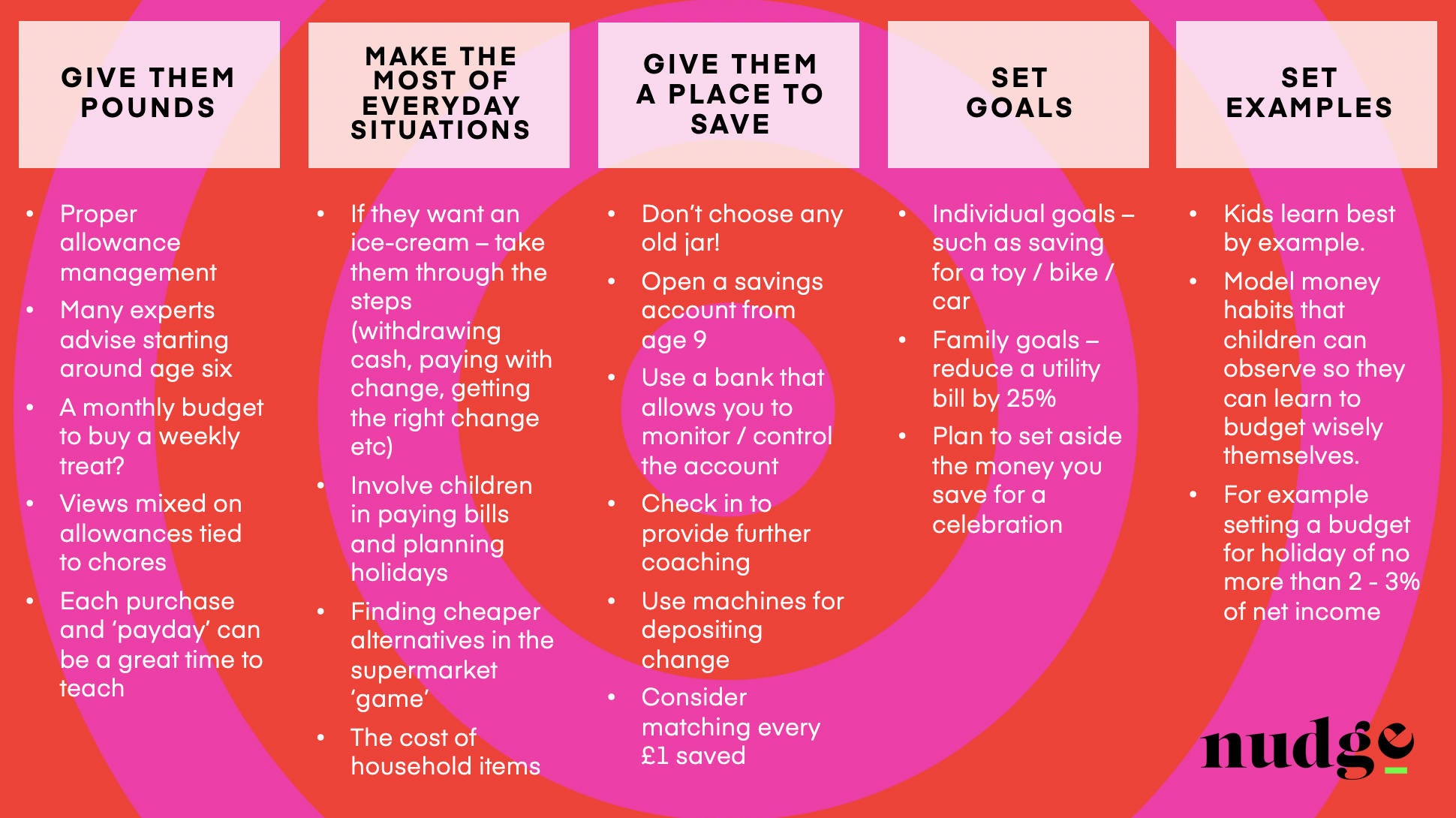 Today, 8.3m adults are over-indebted and 12 million aren't saving enough for retirement.  And there are many signals that the next generation will fair no better – but that doesn't need to be the case.  And if parents are looking for an environment that's rich in opportunities to deliver meaningful financial education in exactly the right context, then there's no better place to start than at home.
If you're interested to find out more about how we bring the world of personal finance to life for children and adults alike, click here to get in touch.