Why we're all invested in investing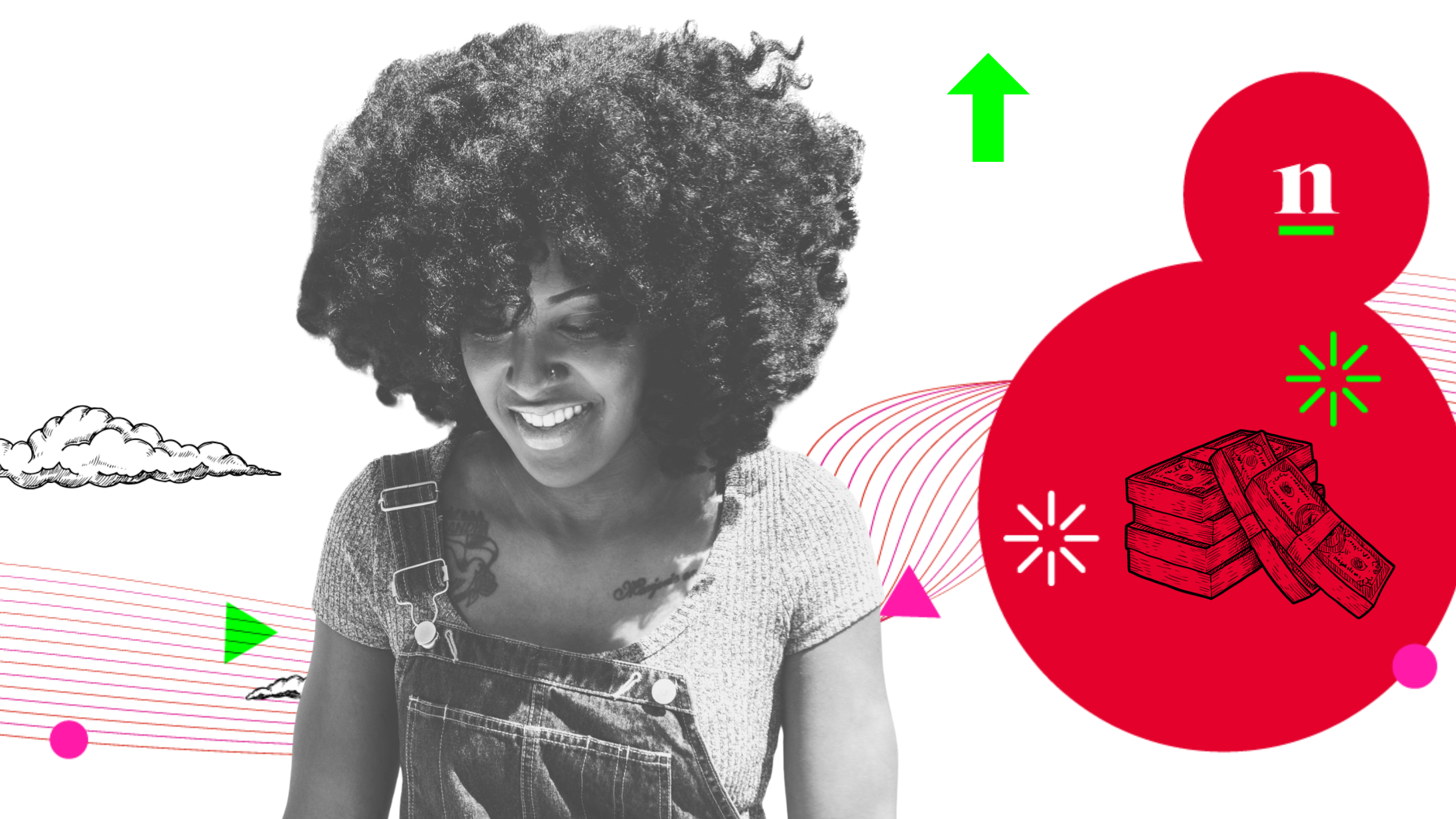 ---
In January we uncovered a growing interest in investing amongst our 500k community who use nudge daily to improve their financial skills and knowledge. Inspired by our insights, we embarked on a deep dive to find out what's sparked this investment intrigue. 
Again we turned to our data, which shows a significant increase in investing content consumption (+12%) at the start of 2021, compared to the previous 3-month period at the end of 2020. In addition, pensions, debt, life after work and holidays & travel have also seen an uplift in interest. The graph below outlines the percentage increase or decrease in financial education consumed on these topics between two periods. 
nudge user data insights: Jan-March21 versus Oct-Dec20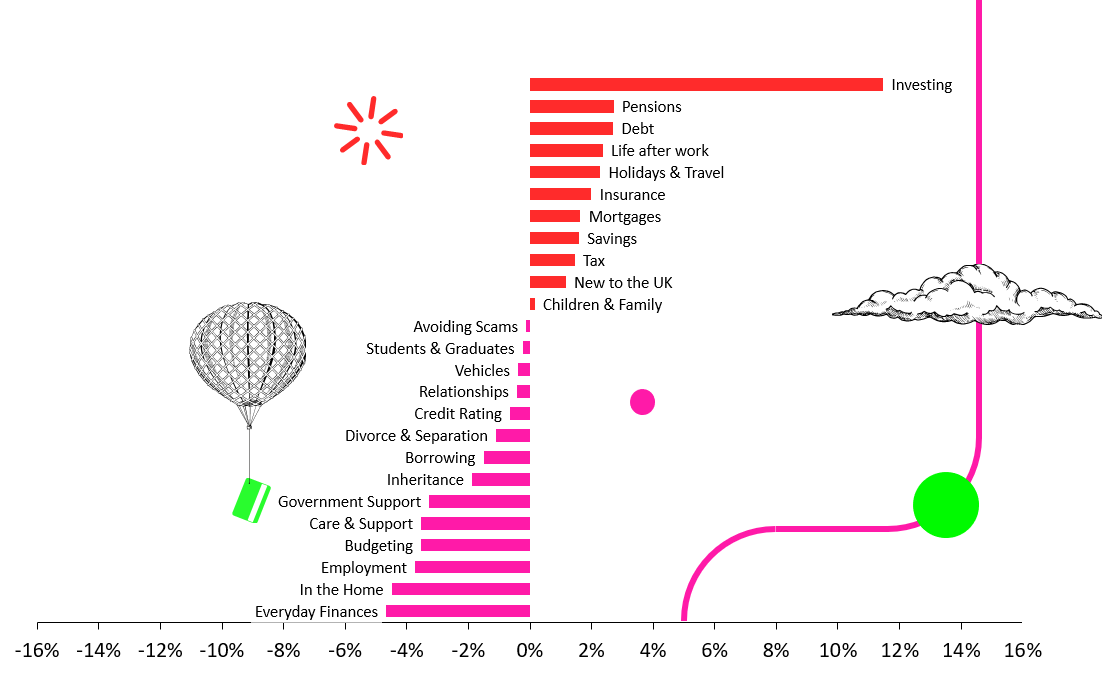 Pensions and investing go hand-in-hand, it's great to see our community looking to the future, prioritising life after work, planning for retirement and building nest-eggs. 
Why?
Research from Finder, 'Investing in a coronavirus world' found the UK is showing a swell of trading interest, citing 67% of people planning to buy stocks and shares in the future - that's a 32% increase since 2018. The report stated it's because of poor interest rates on savings accounts. 55% of those interested in share trading have been motivated by this, and it was also the top reason in 2018.
Affirming our 'Bold and young' insight, Finder reported over a quarter of gen Z and millennials stated they are likely to invest over the next 12 months, with Coronavirus as a motivation. This is almost 3 times higher than the silent generation (10%) and higher than baby boomers (16%). 
The young and the bold
nudge user insight from January revealed employees under 23 years old showed significant interest in investing, in comparison to all other age groups. On the opposite side of the spectrum, we noted the over 61s display a notable disinterest in investing. We found this disparity in behaviour confirmed the exuberance, inexperience of the youth - who have not yet had their financial hand bitten. Contrasted with the risk-averse older generations content with their wealth.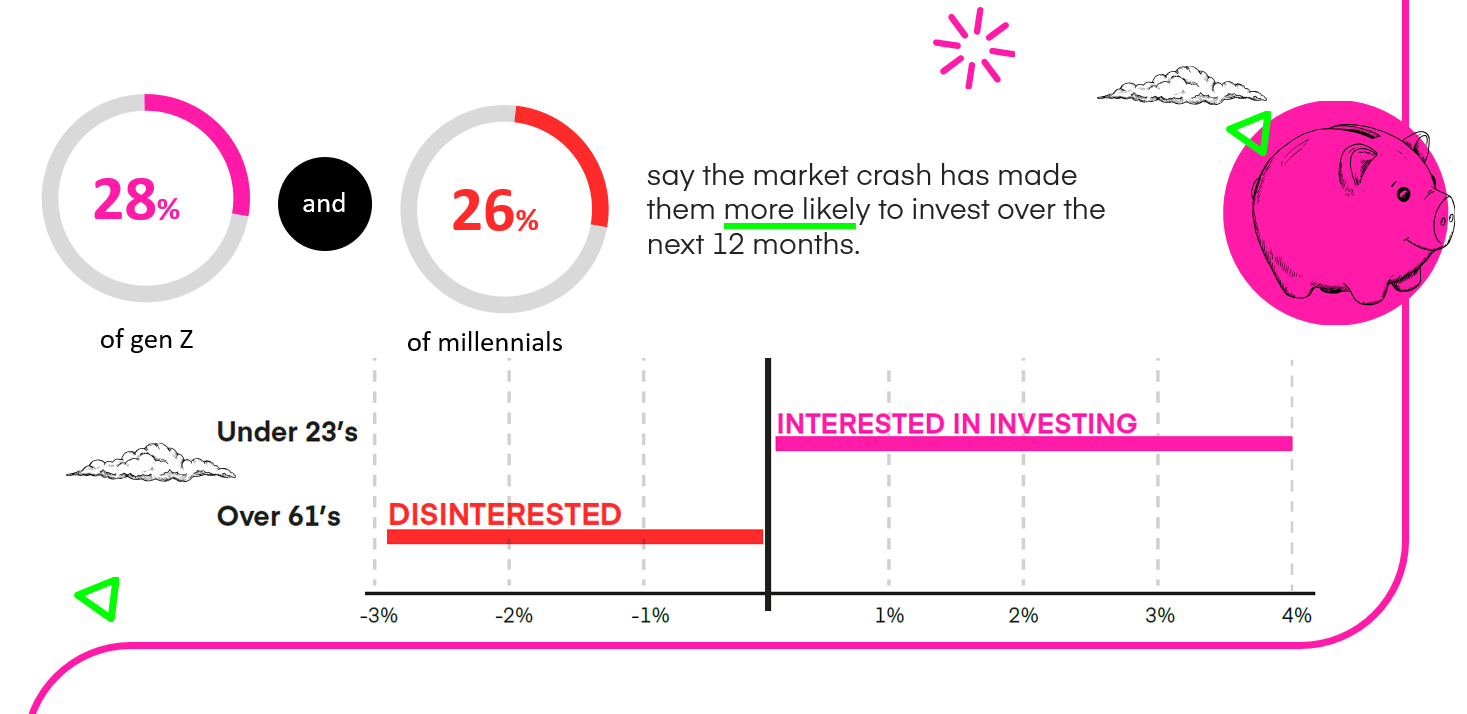 Dissecting the young and investing trend further, Finder's research suggests that the accessibility of investing apps, amongst millennial investors (44%) is one of the reasons influencing this change. 32% also appreciated the low cost of investing this way. Another trend driving forward the investing intrigue amongst our youngsters is cryptocurrency. 
Bitcoin-boom
Some of you might have noticed the recent extravagant jumps in Bitcoin value. February 2021 saw the highest price yet, driven by Tesla's purchase of $1.5bn of the cryptocurrency and confirmed bitcoin is now an accepted payment for vehicles. 'Experts believe recent jumps in the price has been due to a wave of money from both institutional and private investors, spurred on by the coronavirus pandemic.'
At nudge, we're delighted to see more people invested in investing and interested in financial ventures. However, there are risks in sitting at the table in a volatile market without knowledge, support or guidance. 
What you need to know as an investor

So here are some tips we shared with our nudge community, to keep beginner investors on the right track.
1. Review your needs and goals
It's well worth taking the time to think about what you really want from your investments. Knowing yourself, your needs and goals and your appetite for risk is a good start. 
2. Consider how long you want to invest
Think about how soon you may need to get your money back. Time frames vary for different goals and will affect the type of risks you can take on. 
3. Create an investment plan of action
Once you're clear on your needs and goals – and have assessed how much risk you can take – draw up an investment plan. This will help you identify the types of product that could be suitable for you. NB. A good rule of thumb is to start with low-risk investments. 
What you need to know as an employer 
Make sure your people are fully informed of the risks and benefits of investing in a volatile market. Since there are more people planning to invest in the stock market compared with the number two years ago - there are greater risks for people who aren't properly equipped to manage significant financial changes.
We want to ensure this interested group of investors are supported in the best possible way to maintain their financial and overall wellbeing. As an employer, you are in a trusted position to give your people access to premium financial education that will give them critical skills and knowledge. This has been backed up even further by the 2021 Edelman Trust Barometer that has recently uncovered employers are now the most trusted source of information with a duty to provide trustworthy content.

The repercussion if we don't act now is increased financial stress down the road, which is one of the biggest contributors to poor mental health. 
Find out more about how you can help.