Social mobility with Hashi Mohamed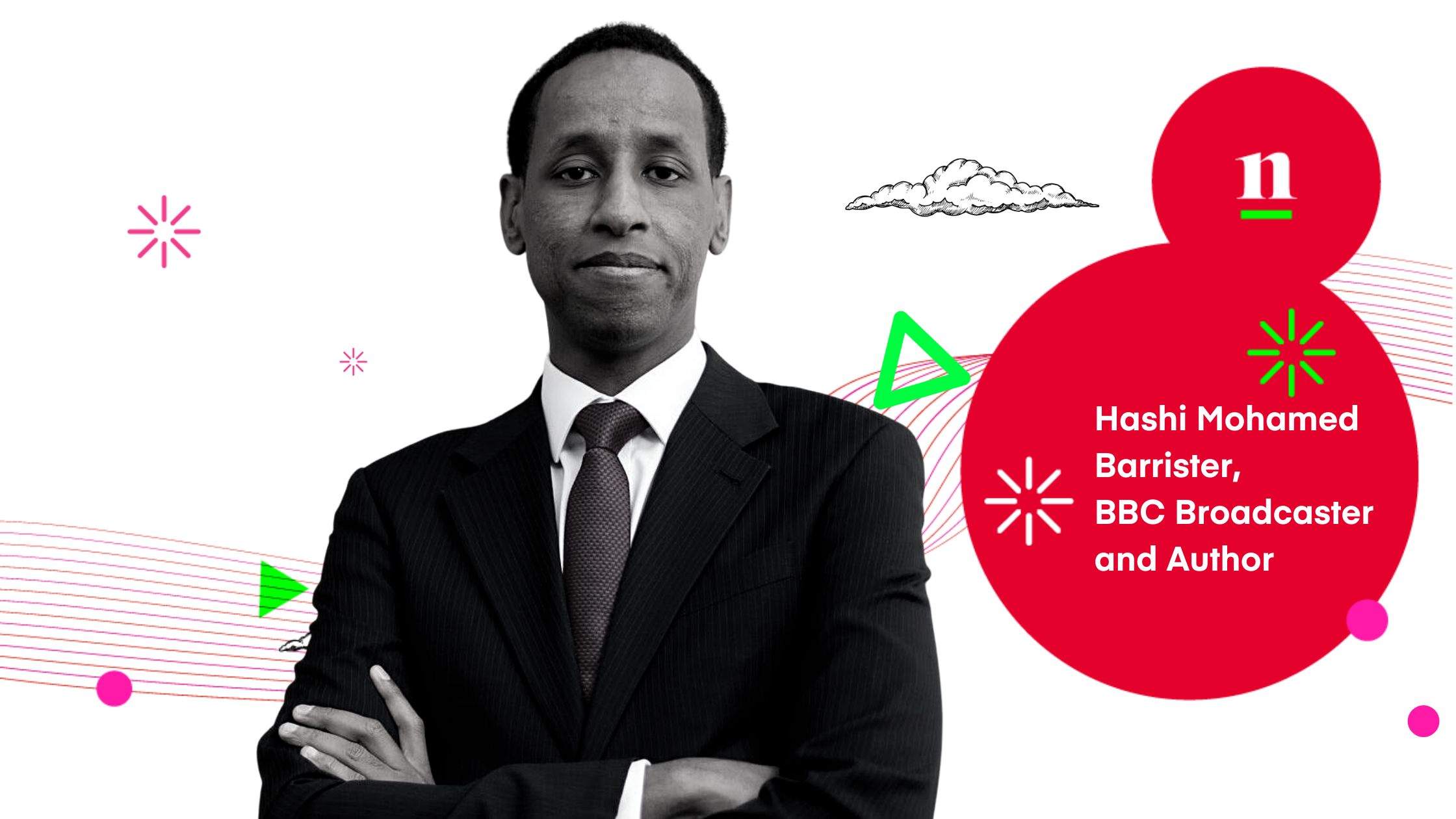 ---
During our recent event, 'How can employers drive financial inclusion', we invited four incredible speakers to give their view on financial inclusion. To give each speaker's topic space, we are releasing each piece individually.
Today we're replaying Hashi Mohamed's - Barrister, BBC Broadcaster and Author - insight on social mobility.
Hashi's story is a real inspiration. From his arrival in the UK as an unaccompanied child refugee with only basic English, he's now one of the UK's leading Junior barristers, a BBC broadcaster and author. His story truly is one of hope and ambition, which he uses to inspire better policy, resilience, focus, and success.
Here are the key insights from Hashi's session, in his words:
"I come at the financial inclusion conversation from a slightly different perspective, really, because I have recently written a book called, 'People like us, what it takes to make it in modern Britain.' And my background, which Tim touched upon very briefly, is that I came to the UK as a young unaccompanied child refugee. Both my parents were never formally educated, my mother gave birth to 12 children. This is a woman who started childbearing at the age of 14. And if life wasn't more difficult than it could ever have been, my father had passed away when I was nine years old.
We found ourselves in the United Kingdom, having been scattered as a family, across the world with some of my siblings in America, some in Canada, and all across the European Union. Some of my cousins ended up in Stockholm, where I am right now. It is impossible to underscore the challenges that come with essentially starting out in life in a completely new world. You know nothing in a new language, in a new culture, in a new way of life, and try and build a life which then is somehow sustainable, financially secure, and outward-looking.
What is it that made me who I am?
In my book, I tackle a lot of the stories of how I ended up to be where I am now, as a barrister, as somebody who has qualified in that well known, apparently very elite profession. Also broadcasting a lot of my ideas on the BBC and what actually happened, what is it that made me who I am? What were the steps that led me to the life that I lead now? It's a huge task, and I wouldn't spend too much time talking about it here. But one of the things I wanted to address is financial inclusion, despite my book being ostensibly about social mobility. When we think about social mobility, it's essentially the question of, are you doing better than those who came before you?
Social mobility
You've heard Tori talking about the challenges that her mum might have felt in terms of being financially independent, or Shani, talking about her worry about whether or not she was a financial burden to parents because of her disability. And in the story of social mobility, when you are trying to do better than those who came before you, a big part of it is overcoming a lot of barriers and mentality issues to where you want to be.
The one I would touch upon here, for example, is getting a law degree, getting a master's and then training to become a barrister and going to the bar. When I was growing up, it cost close to something like £50-£60,000. Today, you're looking at something like £100-£150,000 pounds. If you've come from a financially precarious background like I did, where I was raised exclusively on state benefits, where nobody worked in my family, where we were refugees with scant resources. It's not very easy to then say to yourself, I am going to embark on a course of becoming a barrister one day and get there without being mentally stuck at the proposition that I'm going to get myself into a significant amount of debt, in order to one day be debt free. That is a big part of understanding the question of financial inclusion in my mind.
Financial education is a critical part of social mobility
Earlier, Tim was talking about how schools focus on literacy and numeracy. But I don't remember anybody teaching me about mortgages, about how to actually budget, about the fact that if you're going to get a student loan at one, or one and a half %, it's probably better than any interest rate that you're ever going to get from a bank. That you need to have your eye on the prize and the bigger picture in the future, and so on and so forth. So for me, financial education is a big critical part of the social mobility story.
It's not enough for you to pass exams, and want to work hard, and want to push yourself and want to succeed and be determined. Financial education is a huge part of your understanding about the society in which you are going to function, and essential if you're going to change the course of your destiny. A large part of that, in my mind, is in relation to how the financial systems work, both where you are at that particular moment in your life, and where you're trying to get to.
The main takeaway I hope people will have is, social mobility is not something that just happens overnight. But it takes an understanding of where you are, and where you want to get to, and personal finance is a critical part of that."
Watch out for our next article from David Whitfield, CEO and founder of HR data hub. 
You can also find a recording of webinar 'How can employers drive financial inclusion?' and hear more from Hashi and all our sensational financial wellbeing, diversity and inclusion thought leaders.