UK Budget 2021: a big give and a delayed take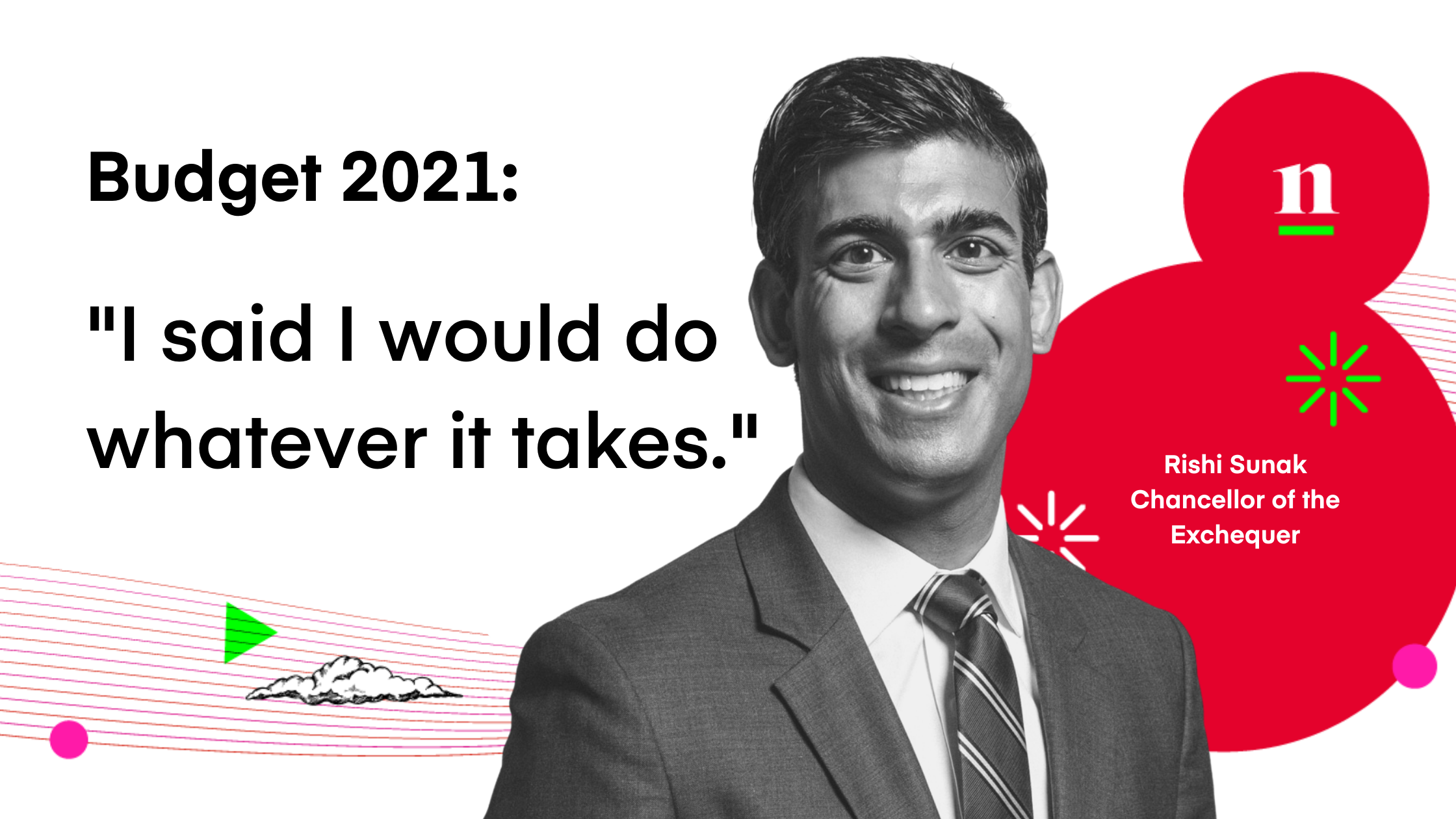 ---
Rishi Sunak said, 'I would do whatever it takes.' He's certainly done that with his people-pleasing budget, of over £280 billion in support for the UK. Today's announcement is important for us as the budget defines the financial education we will deliver to our global nudge user community this year. We've been waiting with anticipation for Sunak's words so we can translate for our nudge community and map out the financial road ahead.
Our first budget reaction is - a big give and a delayed take. We heard extend, extend, extend for furlough, self-employment grants, universal credit, reduced VAT for hospitality and tourism, business rate holidays and stamp duty cuts. All great news, optimism and 'honesty' for people and businesses - but can we truly trust 'a swifter and more sustained recovery than expected'?
Sunak claims our economic return will come six months earlier than expected. He said, "Whilst our prospects are higher, Coronavirus is still doing profound damage. In 5 years time, our economy will still be 3% smaller."
We can't argue with Sunak, the economic damage has certainly been acute with "+700k jobs lost, our economy has shrunk over 10% - the largest fall in over 300 years and borrowing that's equivalent to World War Two."
On the face of it, today's update puts taxes on ice and fired up more support measures for people and businesses. The question is, what do these 'big giveaways' mean for you and your money? With income tax, inheritance tax, capital gains tax, pensions lifetime allowance all static. Do you know how tax impacts you or how to make the most of your allowances? Here is what you really need to know from today:
Furlough extension until Sept 2021
The furlough scheme that pays 80% of employees' wages, for people unable to work in the pandemic, has been extended until September. The programme is designed to protect jobs until Sept 21 but after that point, it could mean a spike in redundancy. For lower-paid individuals, the National Living Wage will rise to £8.91 from April, from £8.72. That is a 2.2% rise and will be for people aged 23 and over.
Why financial education is important: If you're on furlough right now it's best to prepare for the worst. Financial education can help you save for an emergency fund to keep you afloat should the worst happen come September 2021.
Taxes on ice
Income tax will not rise but the budget will freeze income tax thresholds. At present, people pay 20% income tax when they earn £12,500 a year and a 40% rate at £50,000. These thresholds will go up to £12,570 and £50,270 on April 21, but will then be frozen for five years - the fiscal drag. You may find yourself in a new tax bracket and having to pay more. That will raise a significant amount of money - helping economic recovery. N.B. Scotland has some tax-raising autonomy.
Why financial education is important: Do you know how income tax works? Financial education empowers employees to understand what their salary bracket means in tax, what relief they could be due and the tax benefits of saving for a pension.
Step-up to climb the ladder
Sunak aims to, "Turn generation rent into generation buy". Particularly good news for first-time buyers. First-time buyers see more banks offering 95% mortgages, available when buying properties worth up to £600,000. Stamp duty holidays have extended until 30th June 21 (was due to finish in March) for homebuyers in England and Northern Ireland - as well as similar relief in Scotland and Wales. Stamp duty relief will be reduced to the first £250,000 of purchase until the end of September, before returning to its pre-pandemic level of £125,000 from the start of October.
Why financial education is important: It's great to help individuals get on the ladder but could be dangerous if people overstretch financially. Financial education provides people with the foresight not to overstretch in a mortgage in case of a change in circumstances like redundancy, health issues, divorce etc.
Universal credit continues
Although it's not universal credit doesn't directly affect our nudge community (it might impact their loved ones), the £20-a-week top-up to universal credit is a good reminder for people to check for allowances that they might be eligible to claim. Today it was announced that those on working tax credits will receive a one-off £500 payment.
Why financial education is important: At the last announcement there has been £7billion worth of unused Government allowances - waiting to be claimed. Financial education can help people utilise and understand their eligibility for this free money.
Petrol, alcohol and contactless
All duties on alcohol will stay as they are, for a second year in a row and predicted to rise at some point. The freeze on fuel duty continues for at least another year -60% of the price you pay for fuel is tax, that's a mixture of fuel duty and VAT. Contactless payment limit will rise to £100 later this year
Why financial education is important: Increase in the cost of petrol and alcohol could both have an impact on your personal finance so it's important to be aware of any changes. And the increase in contactless payment could be risky as it's more difficult to keep track of your instant spending.
Groundbreaking budget
The budget today was groundbreaking, not only because of the extended financial support from the Government but equally the depths of debt in which our nation continues to drown. Sunak concluded his budget today with a reflection on the values he maintains, "Whilst this last year has been a test to the fundamentals of our character, we remain still determined, still generous, still fair." It's clear he is prioritising people and their livelihood with today's budget - a sentiment shared at nudge. 
Find out more about the budget or hear from leading organisations on the benefits of financial education for navigating important financial changes, like the Budget.