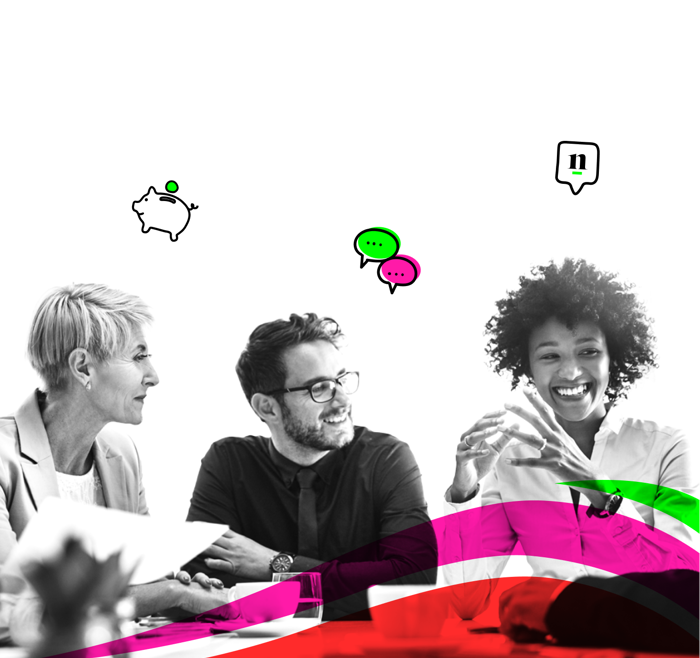 About us
nudge is the global financial education platform that demystifies money management for all.
Drawing on behavioral psychology and data, our platform offers personalized, engaging financial knowledge and skills to educate and delight.
In today's complex financial world, ignorance isn't bliss. For many, it's hardship, hassle, and lost opportunity.
But we believe change is possible. And we're going to lead it. Because when people are in control of their money, they're in control of their lives.
We have a stellar client base including PayPal, Facebook, Boeing, Virgin, IBM, British Gas, Samsung, Investec, Clifford Chance, Selfridges and BlackRock. 
Find out more about us here.
Opportunity
nudge is now live in 80 countries and continues to be a popular benefit for the largest organisations in the world. We are increasing the size of our team, with a Client Success Manager to help fulfil our mission of creating brighter financial futures for everyone, everywhere. This is an exciting time to join nudge as we rapidly scale up from working across the UK, Ireland, US, Australia, Spain and Canada to a truly global offering.
You will be part of the Client Success & Services team. This is a fast-paced, exciting and varied role within an innovative company with a vibrant culture. It is the perfect mid career level role to supercharge your career in Client Success.
We are looking for someone to be responsible for the success of nudge within our Enterprise market sector clients. The satisfaction of our clients is the lifeblood of nudge – without their ongoing engagement and advocacy we'd be kaput.
Reporting directly to the Director of Client Services & Success, this role will require working incredibly closely with every member of the Client team and other teams to ensure we are always aligned and working towards the same business goals.
The successful candidate will be extremely autonomous, an excellent relationship builder and communicator, commercially astute and be able to prioritise and manage several clients at once. If you're driven, passionate and enjoy delighting clients, then this is an opportunity to make a meaningful impact on the lives of thousands of people across the globe.
Retention, revenue growth and referrals are at the heart of this role and you will have a range of exciting responsibilities. Ultimately, you will own client relationships, grow our pipeline, boost upsells and contribute to our long-term business growth.
Responsibilities
The nudge team is scaling, which means that sometimes our roles can be pretty-varied. However, some of the core parts of the Client Success Manager role will be:
Owning your portfolio of clients, overseeing and increasing the adoption, engagement, and retention with your client base; to demonstrate ROI and ensure outstanding levels of client satisfaction.
Consulting with your clients to understand their business and their wellbeing strategy and making sure nudge is then supporting our clients goals and delivering on agreed success outcomes.
Maximising the chance of contract renewal through sustained and valuable liaison with the key decision makers within each of your accounts (for example, Quarterly Business Reviews).
Referral and advocacy – curating client satisfaction feedback, case studies and referrals
Upselling – Making the most of upsell opportunities already available and spotting opportunities for new propositions that can be packaged and sold as additional Contracted Annual Recurring Revenue (CARR)
Maximising the use of nudge's unique ability to communicate an employer's reward and wellbeing initiatives to deliver ROI to the employer through better engaged employees
Acting as the expert on platform features and functionality; comfortably delivering training demonstrations.
Help evolve a scalable Client Success model and feeding this back into our sales, operations and product approach.
Working with the Product and Support teams to deliver and act on valuable insights and feedback from our end-users.
Skills and experience
We're a close-knit family so a willing, friendly and collaborative personality is really important to us. And we're exceptionally nimble and things move fast so we really value 'athletic' minds and a "let's give it a go" attitude.
For this role the ideal candidate should have the following skills and experience:
Five plus years plus experience in B2B Client Management/Client Success
An applied knowledge of the wellbeing (ideally financial), reward and benefits market
Hands-on experience with different CRM platforms
Experience in reward and wellbeing market
Excellent communication skills and stakeholder management capabilities
Fantastic rapport builder, who can build trusted advisory relationships with clients
Nice additions:
Personal finance/Financial wellbeing experience and expertise
Experience in communication and engagement of reward, wellbeing and benefit programmes
What we offer
At nudge we put people first.  Our values are "friends through thick and thin", "embracing differences, supporting individuals", "leading and sharing" and "always learning".
We have an open, friendly and supportive work environment that we hope you'll be proud of.  And we're growing fast which means great opportunities for you and your people to gain broad and diverse experience alongside some of the brightest minds in the industry.
Share options
A competitive salary
Financial education 
A personal learning and development allowance
25 days annual leave, plus your birthday off
A company pension scheme
Life Assurance and Critical illness cover
Private Medical Insurance cover and a Healthcare cash plan
Regular company socials and wellbeing activities
A flexible working environment
Unparalleled opportunity to develop your career rapidly through exposure to all company areas
We're committed to creating a culture which gives our employees a sense of belonging. This is also reflected in our values as we're learning and growing through embracing differences and supporting individuals.
If it sounds like you, we'd love to hear from you! Send us your CV and cover note via the form below.
Any questions, get in touch with us on careers@nudge-global.com