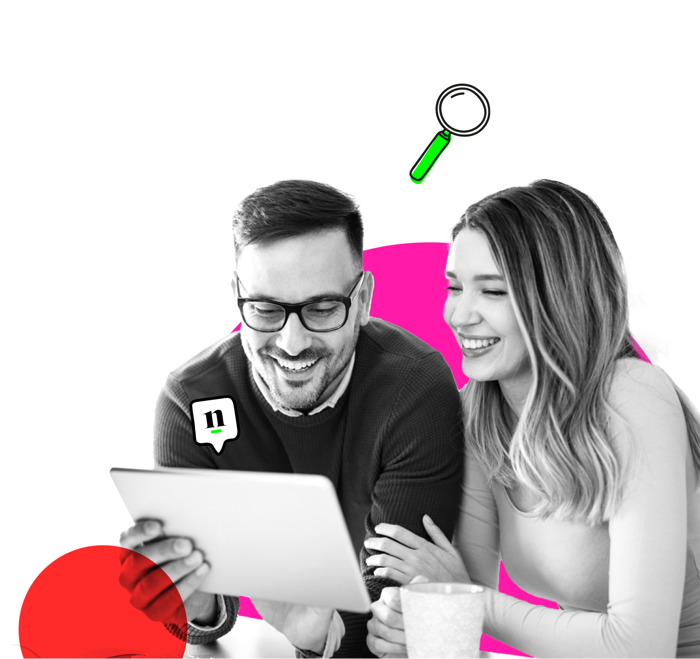 About us
In today's complex financial world, ignorance isn't bliss. For many, it's hardship, hassle, and lost opportunity.
But we believe change is possible. And we're going to lead it. Because when people are in control of their money, they're in control of their lives.
nudge is the global financial education platform that demystifies money management for all.
Drawing on behavioral psychology and data, our platform offers personalized, engaging financial knowledge and skills to educate and delight.
We have a stellar client base including PayPal, Facebook, Boeing, Virgin, IBM, British Gas, Samsung, Investec, Clifford Chance, Selfridges and BlackRock.
And nudge is now live in over 100 countries!
Find out more about us here.
Opportunity
nudge is now live in 80 countries and continues to be a popular benefit for the largest organisations in the world. Following a recent financing by growth equity firm Kennet Partners (www.kennet.com), we're increasing the size of our team, with a Software Engineer to help fulfil our mission of creating brighter financial futures for everyone, everywhere. This is an exciting time to join nudge as we rapidly scale up from working across the UK, Ireland, US, Australia, and Spain to a truly global offering.
Your role would be key in improving and driving the nudge product. You will be involved across the full software development lifecycle, from designing the architectural diagrams right the way to feature implementation and testing. You will also be involved in doing demos to the stakeholders.
This is an opportunity to make a meaningful impact on the lives of thousands of people across the globe.
Responsibilities
We are looking for someone to work as a Software Engineer. nudge is fast moving, which means that sometimes our roles can be pretty-varied. However, some of the core parts of the role will be:
Software development using technologies including C#, Angular, Typescript, SCSS, Microservices, Cloud Technologies (Azure), SQL Server, RabbitMQ
Working in fortnightly sprints
Working alongside other team members such as Product Managers, and Quality Engineers to design and deliver new functionality or features using the most appropriate tools and techniques.
Participation in full software development lifecycle
Playing an active role in the technology team to help with the direction of the product for end users
Skills and experience
We're a close-knit family so a willing, friendly and collaborative personality is really important to us. And we're exceptionally nimble and things move fast so we really value 'athletic' minds and a "let's give it a go" attitude.
For this role we're also looking for the following skills and experience:
Experience with .NET Framework or .NET Core and building software using C#
Experience with HTML, CSS, Typescript, Angular
SQL Databases
Unit and Integration Testing
Debugging within Visual Studio (or an IDE of your preference)
Experience in Data Security within the application and familiarity with OWASP top 10 threats. (desirable)
Experience with CI/CD pipelines and cloud technologies such as Azure (desirable)
Experience working in an Agile environment
Strong communication skills
What we offer
At nudge we put people first.  Our values are "friends through thick and thin", "embracing differences, supporting individuals", "leading and sharing" and "always learning".
We have an open, friendly and supportive work environment that we hope you'll be proud of.  And we're growing fast which means great opportunities for you and your people to gain broad and diverse experience alongside some of the brightest minds in the industry.
Share options
A competitive salary
A personal learning and development allowance
25 days annual leave, plus your birthday off
A company pension scheme
Life Assurance and Critical illness cover
Private Medical Insurance cover
Regular company socials and wellbeing activities
A flexible working environment
Unparalleled opportunity to develop your career rapidly through exposure to all company areas
We're committed to creating a culture which gives our employees a sense of belonging. This is also reflected in our values as we're learning and growing through embracing differences and supporting individuals.
If it sounds like you, we'd love to hear from you! Send us your CV and your portfolio (samples of your work) via the form below.
Any questions, get in touch with us on careers@nudge-global.com