nudge beyond
the workplace
Want to give your customers a richer experience? Help them understand the world of money or your products or services better? And show them that you care? Give them nudge.

nudge gives you a way to improve your brand reputation and tailor your offering using our insights. By raising your customers' financial skills and knowledge, they'll be able to make better financial decisions.
A halo effect
nudge will remain the 100% unbiased, ethical solution that has made it such a world-leader – and you'll also benefit from that ethos. There is zero conflict of interest. nudge does not come loaded with products to sell. We will always be acting in your customers' best interest.
nudge can help
Educate and empower your customers to make better financial decisions

Increase their happiness and reduce their financial stress

Create more loyal customer advocates

Promote your service in a personalised way

Drive your future customer proposition forward with our insightful analytics

Understand when, where and how is the best time to communicate to your customers – again based on our powerful insights
We're changing people's relationship with money. We have an ethical approach to doing business. We're totally transparent about the content of our service, and its purpose. We don't make money when people sign up for a product. And we use behavioural psychology – nudge theory – to deliver the right content, to the right people at the right time – for all the right reasons. nudge can help you change the relationship your customers have with their personal finances and your products.
Original personal finance content
To guarantee independence, engagement and the highest standards, all our content is written by our team of global content editors. So you can trust it's not tied to any of your competitors' products or services.
Bespoke. And good for business
nudge can deliver a bespoke service to hundreds of thousands of users. And we use behavioural psychology to maximise effectiveness and relevance – increasing return on investment.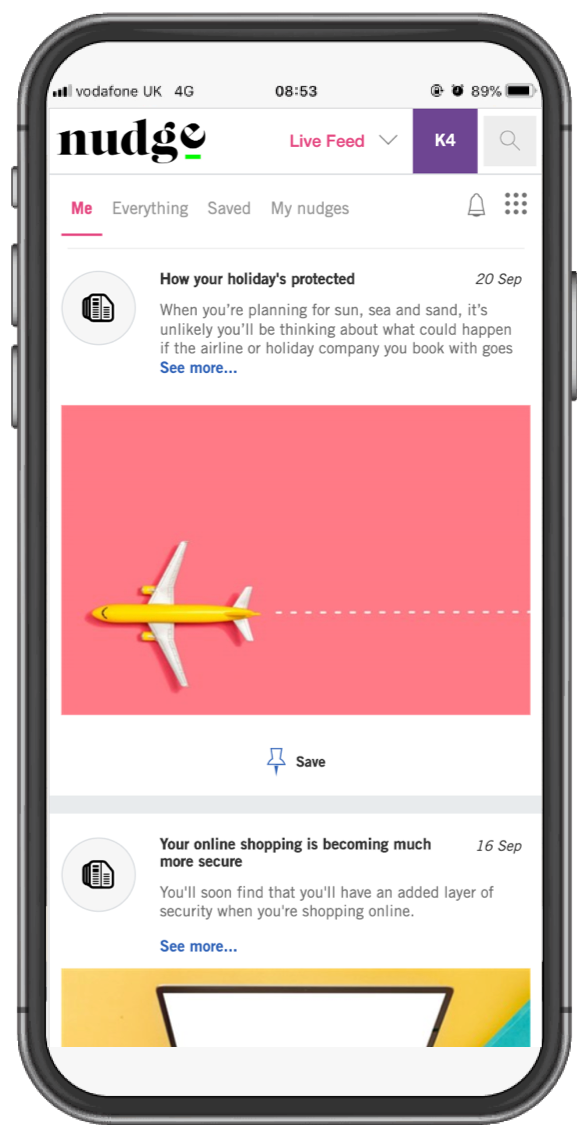 nudge works for you
The nudge solution gives you the flexibility to create your own content and use our technology to distribute it. It will work alongside existing platforms that you use for your customers or members.
Accessible
nudge has a familiar, friendly interface and is easy to access – on mobile and desktop. nudges can be received by text, email or WhatsApp
nudgenomics
The who, what, when, how and why of your customers
nudgenomics is a comprehensive analytics suite that helps you understand the behaviours and interests of your customers. It'll tell you what buttons your customers are pressing, so you'll know how to keep them happy. By understanding what your customers need, what they like and where they need help, you can give them a nudge to help them find the right solution.
OUR CLIENT COMMUNITY