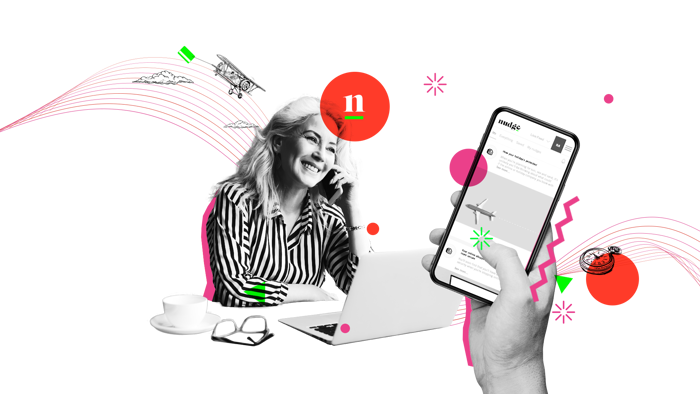 About us
At nudge, we're boosting our users' financial wellbeing and in doing so, helping people, businesses and communities thrive.
Money is really complicated and getting worse which is causing hardship, hassle and lost opportunity. This makes financial wellbeing more important than ever.
Our technology provides our users with personalized and unbiased financial education. We have a stellar client base including PayPal, Facebook, Boeing, Virgin, IBM, British Gas, Samsung, Investec, Clifford Chance, Selfridges and BlackRock.
With timely prompts (nudges), a financial social feed and interactive tools, we help people take action, take control and drive lifelong change.
We think everyone in the world deserves nudge. Find out more about us here.
Opportunity
nudge is now live in 50 countries and continues to be a popular benefit for the largest organisations in the world. As a result of our growth, we are expanding our Technical team, with the Technical Operations Lead being crucial to facilitating this progress.
This is a fast-paced, exciting and varied role within an innovative company with a vibrant culture. It is the perfect role to supercharge your career!
We are looking for someone to be responsible for the technical operations. The nudge team is scaling, which means that sometimes our roles can be pretty varied. However, some of the core parts of the role will be:
Providing complex problem solving and support for nudge's core production platform
Supporting the production IIS and MS SQL Server deployments
Testing for technical features or issues
Supervising our hosting partner's maintenance of co-located Windows hardware, including patching and regular updates
Supporting internal services such as Azure AD, Exchange and Office 365
Oversight of firewall configuration and production security features
Maintaining and utilising system monitoring and reporting functionality
Documenting and assisting in the operationalisation of new technical features in the Client Success teams
Advocating the platform technical operations perspective in product steering groups
Managing incident response for level 2 and level 3 technical issues
Support out of hours escalation and critical incident response
Reporting directly to the Chief Technology Officer, the candidate will help to build up a best-in-class technical operations function at nudge to support the massive growth of the business. This role will also work in partnership with our Client success teams to deliver a first class user and client experience.
The successful candidate will be extremely autonomous, possessing strong confidence to work independently in the early days before growing a team in place. They will be able to problem solve and provide expertise to client facing teams where technical expertise is needed. They will quickly develop detailed understanding of key technical areas of nudge's business, become a subject matter expert and take ownership of key technical areas.
This is an opportunity to make a meaningful impact on the lives of thousands of people across the globe.
Skills and experience
We're a close-knit family so a willing, friendly and collaborative personality is really important to us. And we're exceptionally nimble and things move fast so we really value 'athletic' minds and a "let's give it a go" attitude.
For this role we're also looking for the following skills and experience:
Five years in a technical operations team in a fintech, banking, finance, financial services or other high performance technical organisation
Working in an ISO 27001 certified organisation
Leading a team in a technical operations function at any level
Proven experience navigating sophisticated distributed systems in order to reach the root cause and drive issues to resolution
Strong information security awareness and expertise in troubleshooting
Experience supporting services on-premise or in a collocated environment
Proven experience in Windows, IIS, Microsoft SQL server database administration; Microsoft Azure cloud computing, Kibana and Elastic Search database
Experience working with and applying ITIL (or similar) framework and best practice
Knowledge of SAML2 based SSO and network security covering TLS configuration and management of certificates
Good knowledge of distributed systems and networking; standard internet protocols, DNS, proxies, firewalls, web application firewalls, load balancing, VPNs, routers, private networks
Nice additions:
Experience of managed transition for on-premise or collocated services to cloud based architectures
Experience with SQL queries, sufficient to carry out 3rd line investigations into data related issue
What we offer
At nudge we put people first.  Our values are "friends through thick and thin", "embracing differences, supporting individuals", "leading and sharing" and "always learning".
We have an open, friendly and supportive work environment that we hope you'll be proud of.  And we're growing fast which means great opportunities for you and your people to gain broad and diverse experience alongside some of the brightest minds in the industry.
We offer a very competitive reward and benefits package, which includes:
Share options
A competitive salary & bonus
A personal learning and development allowance
25 days annual leave, plus your birthday off
A company pension scheme
Life Assurance and Critical illness cover
Health care cash plan
Regular company socials and wellbeing activities
A flexible working environment
Unparalleled opportunity to develop your career rapidly through exposure to all company areas
If it sounds like you, we'd love to hear from you! Send us your CV and cover note through the green form below. 
Any questions, get in touch with us on careers@nudge-global.com