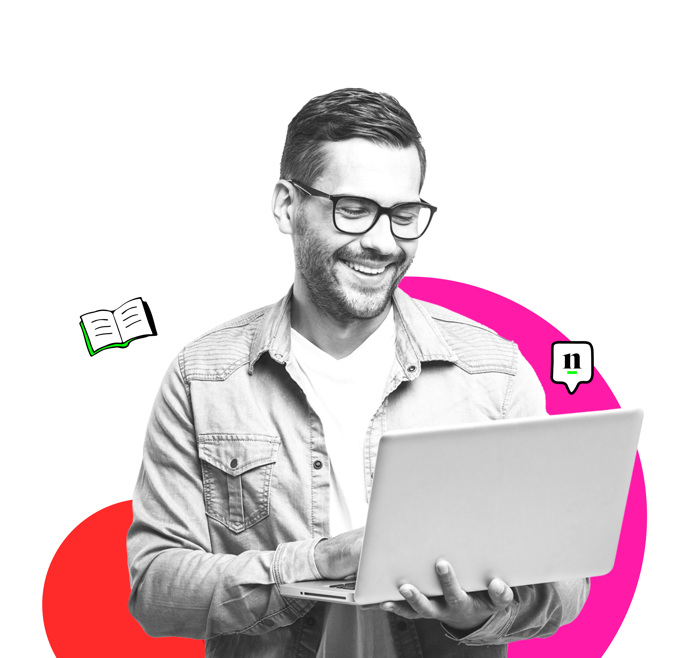 About us
In today's complex financial world, ignorance isn't bliss. For many, it's hardship, hassle, and lost opportunity.
But we believe change is possible. And we're going to lead it. Because when people are in control of their money, they're in control of their lives.
nudge is the global financial education platform that demystifies money management for all.
Drawing on behavioral psychology and data, our platform offers personalized, engaging financial knowledge and skills to educate and delight.
We have a stellar client base including PayPal, Facebook, Boeing, Virgin, IBM, British Gas, Samsung, Investec, Clifford Chance, Selfridges and BlackRock.
And nudge is now live in over 100 countries!  Find out more about us here.
Opportunity
The successful candidate will be part of our US Sales Team.
You will report into our US Vice President Jeff Miller, who has over 20 years experience in partnering with the largest global employers and helping them improve the financial wellbeing of their workforces. 
With significant support and budget provided to you in terms of tools, SDR and marketing resource, this role should be a sales paradise for you. That said, we want to maintain a scrappy start-up attitude and so you need to understand there will be challenges and you must have the grit, determination and flexible intelligence to overcome the obstacles you will find in your way.
Responsibilities
This will be a varied and dynamic role and will involve the following key responsibilities:
Qualify: The Sales Development Representative (SDR) team will be presenting you with high quality and quantity of inbound and outbound leads, and using our qualification criteria, it is your responsibility to take a pragmatic view on which opportunities we should be investing our time and resources into.
Nurture: Upon qualification, you will need to carefully guide your prospects through our sales process, which will involve a mix video call and telephone activities. At times we may meet with our prospects in person too.
Close: Ultimately, the role is to close new business opportunities, and you will have the full support of the nudge team to ensure we are doing everything we can to help you win new clients.
Lead: Being on the frontline requires you to lead both internally and externally, and grow nudge's brand awareness within the US market.
Wholly own your portion of the new business number for the US quota, selling our global financial wellbeing solution to US based decision makers.
Build local alliances and partnerships with consultancies and brokerage firms.
Become an expert in global financial wellbeing, so you are best able to advise prospects on the shape of their financial wellbeing strategy.
Skills and experience
We're a close-knit family so a willing, friendly and collaborative personality is really important to us. And we're exceptionally nimble and things move fast so we really value 'athletic' minds and a "let's give it a go" attitude.
For this role the ideal candidate should:
Experience in the B2B tech / SaaS space.
HR / employee benefits / financial wellbeing tech / global experience is highly advantageous.
Proven success owning and smashing a revenue target in B2B SaaS.
Excellent communication and relationship building skills for internal and external stakeholders.
Not afraid to roll your sleeves up and sell deals (we're not looking for a desk jockey).
Super smart, super engaged, super focused.
What we offer
At nudge we put people first.  Our values are "friends through thick and thin", "embracing differences, supporting individuals", "leading and sharing" and "always learning".
We have an open, friendly, and supportive work environment that we hope you'll be proud of.  And we're growing fast which means great opportunities for you and your people to gain broad and diverse experience alongside some of the brightest minds in the industry.
We offer a very competitive reward and benefits package, which includes:
Company stock plan.
A competitive financial package.
A personal learning and development allowance.
25 days' vacation in addition to public holidays, plus your birthday off.
A flexible working environment.
3 months fully paid maternity leave. 1 month fully paid parental leave.
We're committed to creating a culture which gives our employees a sense of belonging. This is also reflected in our values. We respect and seek to empower each individual and support the diverse cultures, perspectives, skills and experiences within our workforce. If you need assistance or accommodation, please let us know.
If it sounds like you, we'd love to hear from you! Send us your CV and cover note via the form below.
Any questions, get in touch with us on careers@nudge-global.com