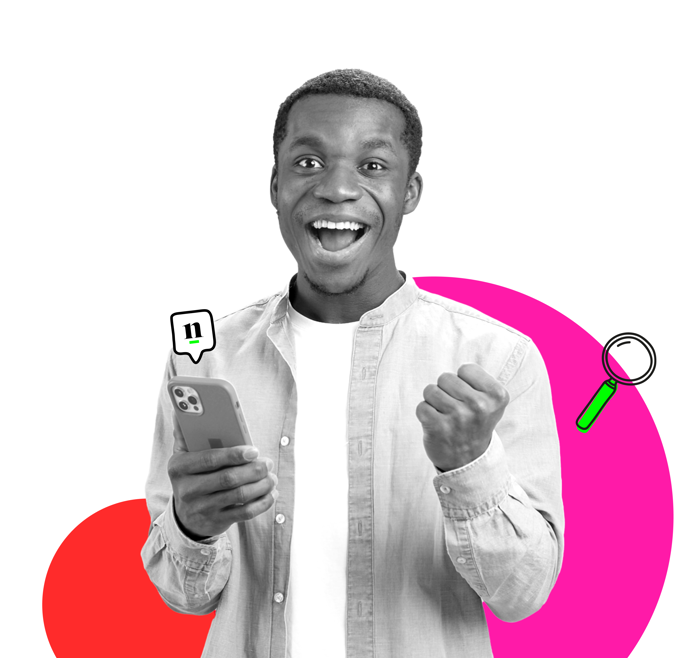 We're looking for a part-time UX Designer to help us improve the financial literacy, and wellbeing, of the world's population – all 8bn of us!
By combining data and behavioural psychology, our technology empowers users with personalised financial knowledge and skills.
We're a fast paced, and even faster growing, SaaS FinTech providing financial education to employees, customers and communities across +100 countries.
This is a unique opportunity to make the world a better place, develop your skills, interests and experiences and have a lot of fun along the way!
Role overview
We are a dynamic, fast growing business with employees and freelancers in over 15 countries, including the UK and US.  We are driven by innovation and focused on delivering exceptional results to our clients and users. We are looking for a part time (3 days a week) UX Designer to join our team.
Your role would key in driving the user experience of our nudge product. You would be involved across the full product lifestyle, from conceptual designs in the product discovery stage right the way through to feature implementation. You'll be confident looking at data to drive UX improvements and identify usability issues. You'll enjoy and excel at acting upon iterative feedback from stakeholders across the business including Tech, Content, Marketing and Sales teams.
The successful candidate will be fluent in UX/CX best practice and have strong experience using software like Figma, Invision and Sketch. They will be a natural problem solver and passionate about providing the best user experience. They will be confident working in a fast-paced environment with multiple priorities, both independently and in a collaborative environment.
This is an opportunity to make a meaningful impact on the lives of thousands of people across the globe. 
nudge is fast moving, which means that sometimes our roles can be pretty-varied. However, some of the core parts of the role will be:
Create interactive design prototypes, UX flows, wireframes and visual designs
Developing and iterating on user journey flows
Playing an active role in the product team in informing the direction of the product for end users
Working directly across different teams across the business to design solutions for new products features
Working directly with developers to enhance and ensure quality on the look and feel of the platform
Developing style guides for product content and features
Working closely with data to help identify and drive product improvements
Being the voice of the user, championing a user-centred design philosophy
Working with client and sales teams to create bespoke demo protypes
Being up to date with best practice UX and gamification theory
Skills and experience
We're a close-knit family so a willing, friendly and collaborative personality is really important to us. And we're exceptionally nimble and things move fast so we really value 'athletic' minds and a "let's give it a go" attitude.
For this role the ideal candidate should :
4 years+ experience in UX
Proven track record in successful delivery of design outcomes (prototypes, wireframes, user journeys)
Strong experience in prototyping tools such as Figma, Invision and Sketch
Experience working collaboratively with developers
Experience working in a fast paced, Agile environment
Experience working in UX strategy
Strong communication skills
Strong organisational skills and proven ability of working to project deadlines
Experience in accessibility design to AA standard (desirable)
Experience in UX writing (desirable)
What's in it for you?
At nudge we put people first.  Our values are "friends through thick and thin", "embracing differences, supporting individuals", "leading and sharing" and "always learning".
We have an open, friendly, and supportive work environment that we're proud of.  And we're growing fast which means great opportunities for you and your people to gain broad and diverse experience alongside some of the brightest minds in the industry.
We offer a very competitive reward and benefits package, which includes:
Share options
A competitive salary
A personal learning and development allowance
25 days annual leave, plus your birthday off
A company pension scheme
Life Assurance and Critical illness cover
Private Medical Insurance cover
Financial education
Regular company socials and wellbeing activities
A flexible working environment
Unparalleled opportunity to develop your career rapidly through exposure to all company areas
We're committed to creating a culture which gives our employees a sense of belonging. This is also reflected in our values as we're learning and growing through embracing differences and supporting individuals.
If it sounds like you, we'd love to hear from you! Send us your CV and cover note via the form below.
Any questions, get in touch with us on careers@nudge-global.com