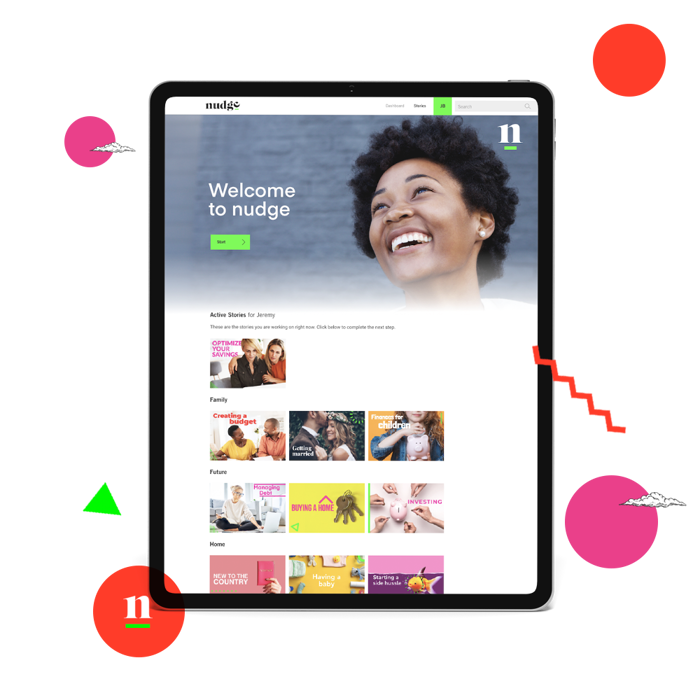 nudge combines financial education with personalized, timely, unbiased prompts to help people plot a path to prosperity. nudge is designed to help people maximize financial opportunities, overcome financial problems and make managing money stress free. nudge also enables you to:
Grow

 uptake and understanding of employee benefits



Cultivate

 a globally consistent experience



Understand

 people's financial needs
Find out more 👇
Like what you see? Get in touch today
Here's how you, the employer, can benefit
Unlike every other solution on the market, nudge is totally transparent. And 100% free of product or provider bias. But for HR, there's a lot more to it than that: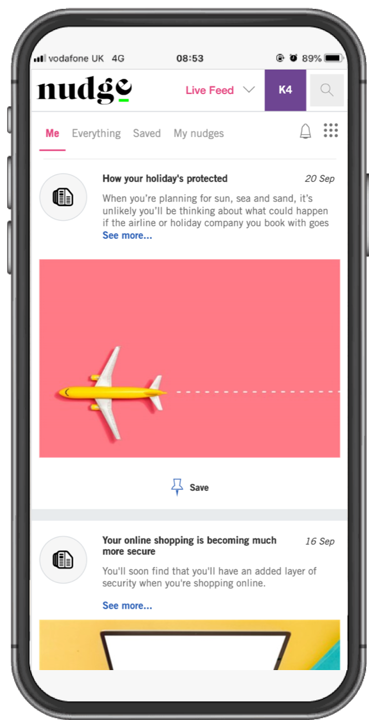 Optimize your workforce
nudge helps reduce financial stress and increase happiness. This reduces absenteeism and increases engagement, productivity and performance.
Increase employee benefits engagement
nudge increases your employees' understanding and awareness of your benefits offer. In turn, this drives further up-take of your benefit engagement. 
Deliver business efficiency
Reduce the amount of time your HR and reward team spend answering queries on employee benefits and administrative tasks. nudge will educate your people for you, and require minimal effort from your team.
Improve your employer brand
By offering the only financial wellbeing platform that's without product bias, you will improve your perception internally and externally. Be the employer that truly cares about their people's financial wellbeing.
But don't just take our word for it
Over 100 of the world's most respected organisations – big and small – are using nudge to help their employees achieve their dreams and avoid financial problems. They also use nudge to promote and elevate their existing reward strategies.
Read some of their success stories here