Security is
critical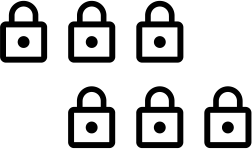 Our clients include some of the world's most security-conscious organizations for whom information security and an impeccable approach to data management is critical. We are fully accredited with ISO27001 and have been operating in line with GDPR since early 2017. Read our ISO 27001 policy here.
As part of these accreditations, we receive and hold the minimum data possible and any data we do hold is fully encrypted in transit as well as at rest.
Furthermore, being sales-free, nudge is a closed system with no data leaving the nudge platform. This, in turn, provides our clients with additional reassurance as to the security of our platform and underlying data management.
If you need to contact us in relation to data protection, please email privacy@nudge-global.com
You can read our full privacy statement here:
PRIVACY STATEMENT
nudge by name, nudge by nature
The nudge solution uses insights from behavioral psychology – nudge theory – to increase the likelihood of positive outcomes for our users.
It's about how and when you present options – delivering the right content to the right person at the right time – for all the right reasons.
So they can make the right decisions and improve their financial wellbeing.
Brighter financial futures for everyone, everywhere
nudge uses simple, relevant, timely education to help people understand complex financial matters.
nudge helps people take simple proactive actions to increase their wealth, avoid financial problems and make managing money simple and stress-free (sometimes even a pleasure).
nudge helps people achieve financial wellbeing and happiness.