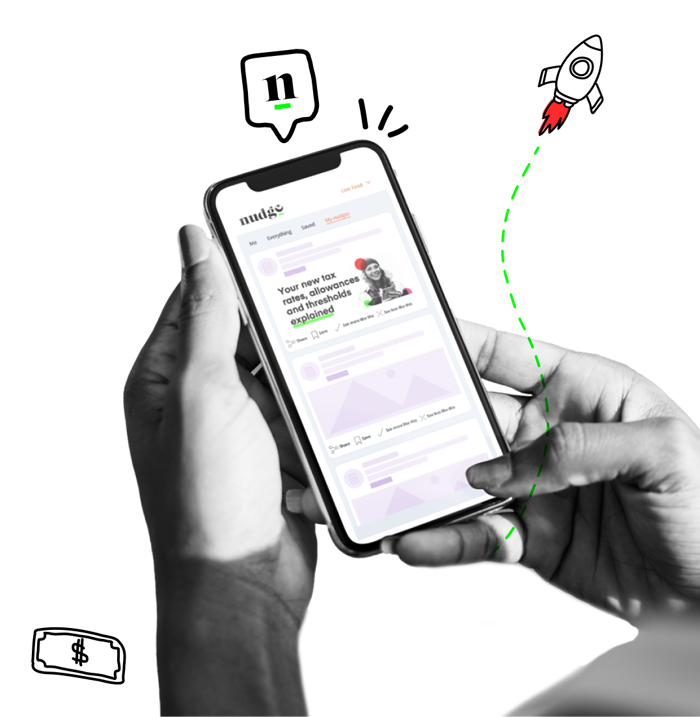 With the cost of living crisis, there's never been a more important time to get your personal finances in order - impartial financial education can help you do just that. 
This National Employee Benefits Day we're giving you the chance to win 1 YEARS ACCESS  to the nudge platform for you and 2 colleagues! 
🙌 For your chance to WIN, simply follow us on LinkedIn, like our competition post and tag 2 colleagues or friends – it's as easy as that!
🔽 Reasons to enter 🔽
Unlimited access to the nudge platform, including: 

Personalized feed of bite-sized financial education posts and snackable articles, all curated to your needs and interests

Timely nudges when there's something you need to know, or a financial action you ought to take

Access to our library of dynamic financial education stories, tools and trackers
 🍀 GOOD LUCK 🍀 We'll be picking a winner on 14th April and contacting them by LinkedIn, so keep checking those inboxes! 
Scroll down to learn more about nudge 👇
Enter competiton
What is nudge?
When your money is under control, you can get on with the things you love.
nudge, an impartial financial education platform, coaches you to better understand your finances and take action to help you plan your future. Right from your first visit, there's always a clear next step in your financial wellbeing journey.
With nudge, you don't have to worry about someone trying to sell you financial products. You'll simply get impartial education and useful tools to help your financial wellness - nothing else.
Find out more about the nudge platform here.
If you are a lucky competition winner, we will require your name and email address to get you onboarded to the nudge platform. The more details you populate in the platform, the more personalized your experience will be. 
You can read our IT & Security policy here.